There is a wide variety of water pumps available to suit many different purposes and needs. In this article find out the various applications of water pumps in the agricultural sector, waste management, as a flood control mechanism, and in the industrial sector. The pumping of water is a basic and practical technique, far more practical than scooping it up with one's hands or lifting it in a hand-held bucket.
Health is wealth and that's why we have made water pumps available at GZ Industrial supplies because, in day-to-day situations, available water is often contaminated, unhealthy, or even naturally poisonous, so that it is necessary to pump potable water from lower levels to higher levels, where it can be of use. A freshwater source in a lower stream, river, pond, or lake is often pumped to higher ground for irrigation, livestock, cooking, cleaning, or other uses by humans, who quite naturally need fresh water. This will purify mostly freshwater, and the treatment of largely contaminated water refers endlessly to pumping.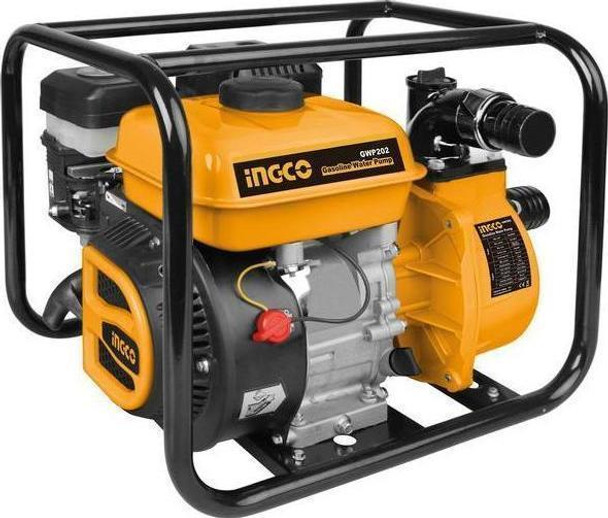 Buy Online... INGCO Gasoline Water Pump 2" GWP202
Table of contents
What is a water pump?
How do water pumps work?
What do water pumps do?
What water pump do I need?
What are the different types of water pumps?
What are the Applications of a water pump?
Conclusion
What is a water pump?
A water pump is an electromechanical machine used to increase the pressure of water to move it from one point to another. Modern water pumps are used throughout the world to supply water for municipal, industrial, agricultural, and residential uses.
Water pumps also are used to move wastewater in sewage treatment plants. Modern water pumps most often are driven by electricity, but other power sources also are used—for example, diesel or gasoline engines. In some remote areas, such as desert regions, solar panels may be used to supply power to small pumps.
Types of water pump
There are several types of water pumps including positive displacement pumps and centrifugal pumps, which provide the same service, however, operate differently. We are the industry leader in water pumps hence we sell the best water pump in Nigeria.
The core concept of a water pump is to use a motor to convert rotational energy or kinetic energy and turn it into energy for moving fluid or for fluid flow (hydrodynamic energy).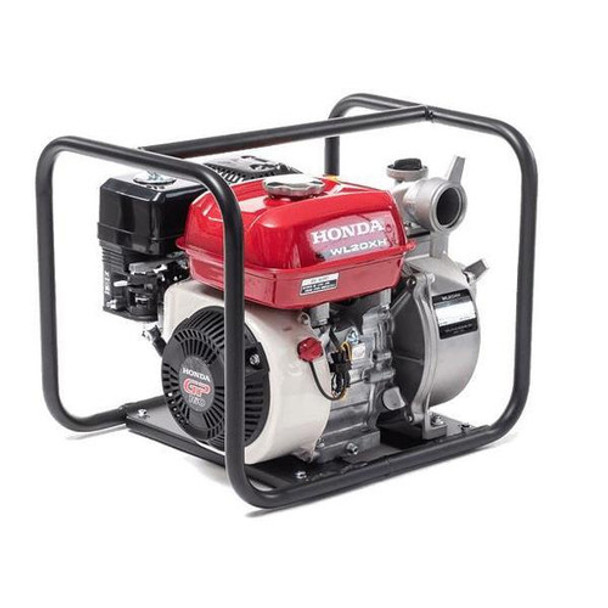 Buy Online... Honda Water Pump GP160 3.6kw 690L WL20XH
Centrifugal Pump
The Centrifugal pumps work with an impeller, fluid enters through the rotating impeller and is expelled out through centrifugal force through the impeller's tips. The process of this increases the velocity and pressure of the fluid and directs it toward the outlet of the pump. A type of centrifugal pump is a submersible pump.
Applications of centrifugal pump
Water is very essential for efficient farming. Often such water is found in various sources like borewells, ponds, wells, streams, and rivers. A water pump machine is the most effective means of lifting water from these sources. There are different types of pumps available. Choosing the right type of pump depends upon the suction lift and delivery head.
Centrifugal water pump is most commonly used for agriculture purposes, it is a rotary machine in which an impeller rotates inside a casing, draws in the liquid at its center, and throws out the liquid through an opening at the side of the casing due to centrifugal force.
Pumps are used extensively in agriculture to move water from the water source, which could be a river, dam, or bore, through pipes to either a point of usage or a storage facility, such as a water tank or an irrigation system.
Centrifugal pumps are also commonly used for pumping sewage, because these pumps can be easily installed in pits and sumps, and can easily transport the suspended matter present in the sewage.
Reciprocating pumps
They are positive displacement pumps that have an expanding cavity on the suction side of the machine and a decreasing cavity that is located on the discharge side of the machine. The water pump works by alternately filling the cavity and then displacing the fluid with each cycle having a constant volume no matter the pressure or the pump head that is used.
Application of reciprocating or positive displacement pump
Positive displacement pumps are commonly used for pumping high viscosity fluids such as oil, paints, resins, or foodstuffs. They are preferred in any application where accurate dosing or high-pressure output is required. Unlike centrifugal pumps, the output of a positive displacement pump is not affected by pressure so they also tend to be preferred in any situation where the supply is irregular. Most are self-priming.
Type of PD Pump
Application
Features
Piston pump


Water – high-pressure washing; other low viscosity liquids; oil production; paint spraying
Reciprocating action with piston(s) sealed with o-rings
Plunger pump


Reciprocating action with a plunger(s) sealed with packing
Diaphragm pump


Used for metering or dispensing; spraying/cleaning, water treatment; paints, oils; corrosive liquids
Sealless, self-priming, low flows, and capable of high pressures
Gear pump


Pumping high viscosity fluids in petrochemical, chemical, and food industries: oil, paints, foodstuffs
Meshed gears provide the rotary pumping action
Lobe pump


Chemical and food industries; sanitary, pharmaceutical, and biotechnology applications
Low shear and wear. Easy to clean or sterilize
Screw pump


Oil production, fuel transfer, and injection; irrigation
Fluid moves axially reducing turbulence; capable of high flow rates
Vane pump
Low viscosity fluids; automotive transmission systems; fuel loading and transmission; drinks dispensers
Resistant to entrained solids and withstands vane wear. The design allows the variable output


Buy Online... Submersible Sewage Water Pump 1HP INGCO SPDS7501
Submersible pumps
Submersible pumps operate under the principle of Electric Submersible Pumping (ESP). This is achieved by lowering flowing pressure, which decreases the pressure at the bottom of the shaft in which the submersible pump sits. The motor of an ESP system is also designed to function under high temperatures (up to 300 degrees Fahrenheit) and high pressures, so it is used in situations where very deep wells are common, such as oil wells.
They can be relatively expensive to run because they require special electricity cables, although new developments have seen the introduction of coiled tubing umbilicals to supply energy to the deep motors. Additionally, electric usage is much higher than other submersible pump motors, and the pump functions on tight tolerances that don't allow for solids and sand.
Application of submersible pumps
Water pumps or flood pumps are often overlooked by flood companies. At GZ Industrial Supplies we always highlight the importance of water pumps because no matter what type of barrier you use, a certain amount of water will almost always seep into the protected area (even through brick walls), or in the case of rain, fall behind a barrier.
Sump pumps are fantastic in flood defense schemes, but they must be submerged in water to function correctly. They are often permanently wired in and installed into sumps. When coupled with an automatic float switch they are perfect for passive flood defense schemes.
Sump pumps are very good at dealing with groundwater flooding, seepage, and rainfall. They allow the groundwater and floodwater to be drained away effectively. Sump pumps generally have higher flow rates than puddle pumps. Unlike a puddle pump, a submersible pump cannot run dry and requires pre-installation work with a chamber.
Groundwater flooding is not yet well understood, but it is where periods of high rainfall fill the water table resulting in the flooding of basements or groundwater appearing at the surface, which can add to or cause flooding. This is usually common when the ground is low lying or near to a watercourse.
Sump pumps can help deal with groundwater flooding, helping to keep your property dry.
Wide choice of flow rates
Can be permanently installed
Good at dealing with groundwater flooding, seepage, and rainfall
Use internally or externally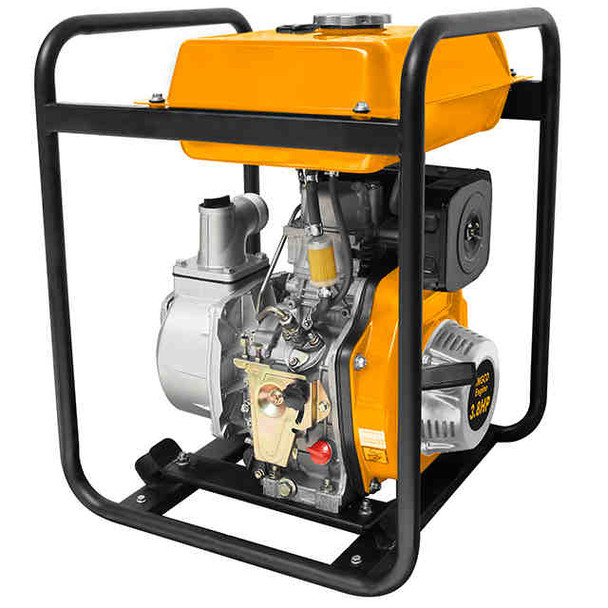 Buy Online... Diesel Water Pump INGCO GEP202
Where can I buy a water pump in Nigeria?
You can buy water pumps in the following places in Nigeria:
1. GZ Industrial Supplies Ogba
Welcome to GZ Industrial Supplies Nigeria Water Pump Supplier Division Ogba.
79 Yaya Abatan Road,
Maternity Bus-stop,
Ogba Lagos.
Tel. +234 8053390169, +234 8053390166, +234 8056598802
WhatsApp: +234 7030806282
2. GZ Industrial Supplies Ikeja
Welcome to GZ Industrial Supplies Nigeria Water Pump Supplier Division Ikeja.
18 Adesina Street, Off Obafemi Awolowo Way,
Ikeja Lagos.
Tel. +234 8181069339, +234 7031515985, +234 8060907072
WhatsApp: +234 8181069339
3. GZ Industrial Supplies Lekki
Welcome to GZ Industrial Supplies Nigeria Water Pump Supplier Division Lekki.
Suit 10 Sebuff plaza Lekki Epe Expressway by Jakande Roundabout,
Lekki Lagos.
Tel. +234 8181069339, +234 8053390169 +234 8060907072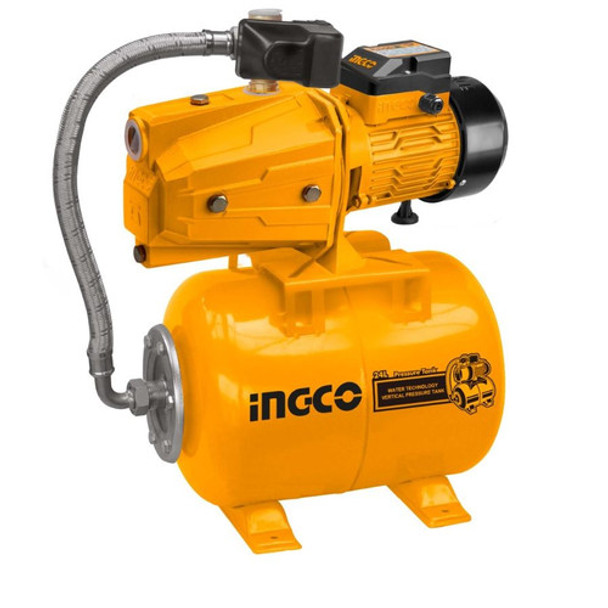 Buy Online... Water Pump INGCO JPT07508
4. GZ Industrial Supplies Apapa
Welcome to GZ Industrial Supplies Nigeria Water Pump Supplier Division Apapa.
10 Apapa Oshodi Expressway, Coconut Bus stop Opposite Total Jetty.
Apapa Lagos
Tel. +234 8181069339, +234 7031515985, +234 8060907072
5. GZ Industrial Supplies Calabar
Welcome to GZ Industrial Supplies Nigeria Water Pump Supplier Division Calabar
Plot 118, Block F, Etgbor Layout ,
Calabar, Cross Rivers State.
Tel. +234 8053098754
6. GZ Industrial Supplies Port Harcourt
Welcome to GZ Industrial Supplies Nigeria Water Pump Supplier Division Port Harcourt.
238 Aba Road, Onyejieke's Plaza beside Fidelity Bank, Rumuogba,
Port Harcourt.
Tel. +234 8181069339, +234 8053390169 +234 8060907072
Please note that most of our products are shipped from our warehouses in Lagos, Port Harcourt, Calabar.

Buy Online... Honda High Pressure Centrifugal Water Pump 1.5", WH15
Frequently Asked Questions on Water Pumps
What do water pumps do?
The main purpose of a water pumping system is to move water from one area to another. They are often applied to construction sites as a form of water extraction, assisting in the removal of water when excavating, at sewage plants, in flooded areas or when dealing with water wells and oil wells.
Water pumps are not limited however to just construction sites, they can be utilized on residential sites, industrial sites, or commercial sites assisting in dewatering purposes. For the hiring of water pumping systems, a water pump is required. A water pump operates the water pumping machine and ensures that it is running effectively.
What water pump do I need?
When looking for the type of water pump that is correct for your task, you need to take into consideration the site of the operation, the size of the operation, and the distance that is needed. All these factors can determine what water pumping system you require.
Water pump systems often have different hose lengths so be sure to check the distance you need to be covered, this is vital in dewatering a well or ground dewatering work. When operating over large distances adding a high head pump is a great option.
Although when considering if there is an elevation difference between the pump and the fluid a submersible pump would be best. Considering the site location can also determine what water pump is best to use. When operating in built-up or residential areas, there may be noise restrictions and therefore a silenced water pump would be optimal.
About GZ Industrial Supplies Nigeria
GZ Industrial Supplies Nigeria is a company whose existence is premised upon the need for distribution and supplies of industrial materials and as one of the homes of the largest direct marketers and premier distributors of industrial materials, Maintenance, Repair, and Operations ("MRO") supplies, Metal-working and workshop tools, Lubricants, Chemicals, Degreasers, Inverters and Batteries, Cleaning and maintenance chemicals to industrial customers in Nigeria.

Buy Online... Deep Well Pump INGCO DWP7501
Conclusion
We can see that water pumps are useful in virtually every industry, contact us for the best water pumps in Nigeria and have the opportunity to have a zoom meeting with our experts.
Related Articles
The Best Water Pumps in Nigeria 2023 Reviews
HOW TO RESOLVE WATER PUMP FAILURE
Where to Buy Water Pumps in Nigeria
Recent Posts
Construction chemicals have always been playing important roles in virtually all sorts of constructi …

Welding consumables encompass a diverse array of materials, including electrodes, wires, and fluxes, …

In the ever-evolving landscape of workplace safety, the importance of selecting the right safet …