The Best Water Pumps in Nigeria 2021 Reviews
Tables of Contents
Introduction
How Does A Water Pump Work Effectively
Types Of Water Pump
The Best Water Pumps in Nigeria 2021 Reviews
Frequently Asked Questions About Water Pumps
Conclusion
Introduction
Water pumps have become so essential in the current world and every household should have one. These products are utilized in so many areas among them water distribution to industrial units. These water pumps operate on very powerful motors which allow them to handle even the cumbersome tasks in a hassle-free manner. One good thing about these products is that they are convenient and safe to use since most of them come with the on/off switch. The importance of water pumps cannot be underestimated.
What is a Water Pump
Water pumps are mechanical or electromechanical devices that are designed to move water through pipes or hoses by creating a pressure differential. Water pumps are commonly used on construction sites for dewatering or removing excess water accumulation. Water can build up due to heavy rains or from a high water table, and pumps allow you to move the water quickly to minimize downtime. Water pumps suitable for this application come in two main types and can be electric, gas-powered, hydraulic, or manual.
How Does A Water Pump Work Effectively
Water pumps are devices designed to replace a body of water, and many other fluids, using an impeller, pressure and a vacuum. Once you place your water pump in any body of water and turn it on, the pressure surrounding the intake changes, creating a vacuum and sucking in the water around the intake. This water will be guided into the main body of the water pump, where it'll go into the chamber with the impeller. The impeller is rotating at this point and as such will take the incoming water with itself. The water is then propelled out of the water pump's outlet. This whole cycle continues whilst the water pump is turned on. To keep a water pump working at peak efficiency, it's important to make sure no air is trapped inside of the water pump, as this will massively decrease the pump's effectiveness. The design I just described is known as a centrifugal water pump. Another type, designed to overcome the centrifugal water pump weakness to air is the self-priming water pump. The self-priming water pump mixes any air in the device with water and pumps this mixture, instead of pumping only pure water. This pump manages to do this, because of a reservoir filled with water inside of the pump. As such, it is important to keep this reservoir filled whilst the pump is working. Finally, there are positive displacement of water pumps. These pumps will displace water with both strokes of the device and as such work under copious amounts of pressure. To protect the pump itself from this pressure it is crucial to make sure a relief valve is installed.
Types Of Water Pump
Industrial water pumps play a crucial role in applications such as dewatering after a significant rain event, supplying/removing water at construction sites, irrigating crops and removing sludge/debris. There are several different types of pumps on the market — and when you consider that their capabilities often overlap, selecting the right pump for your needs can be a challenge. The following water pump descriptions can help you make an informed purchasing or renting decision for your company.
The two general water pump classifications include:
Positive Displacement: A positive displacement water pump uses a flexible diaphragm to expel liquids or materials via contraction and expansion. An old-fashioned hand pump offers a rudimentary example of how a positive displacement pump works. On a larger scale, positive displacement pumps offer the benefit of efficiency, especially when working with high-viscosity liquids or sensitive solids. They also perform well in applications requiring the creation of high pressure or highly precise flow volumes.
Centrifugal: Centrifugal pumps rely on a rotating impeller that forcibly spins the water inside a specially designed housing. The rotating action propels the water through the pump and housing via centrifugal force which causes it to slide off the end of the impeller at high speeds. Centrifugal pumps must remain filled with fluid to function properly. Nearly every pump used in irrigation is a form of centrifugal pump. Other typical applications include pumping water supplies for building projects, providing a continuous pressure source for fire protection systems and boosting the pressure of water received via intake lines, to name just a few.
Specific Water Pump Types
There are also various types of water pumps models, including:
Submersible: As the name implies, submersible pumps are designed and constructed for underwater pumping applications. In most cases, submersible models are centrifugal pumps that consist of a waterproof electric motor and pump that function as one unit. Typical applications include sump pump and sewage services that require the pumping of relatively thin liquids with or without solids. A significant submersible pump advantage is that it does not require priming since it is already underwater.
End suction: End-suction pumps are the most common centrifugal pump models. They consist of a horizontal shaft and a single impeller. Altering the impeller type makes the pump compatible with various clean and dirty water services and levels of solid materials.
Trash: Trash water pumps are normally self-priming centrifugal pumps used for dewatering at mines, construction sites and utility pits. They are designed for pumping dirty water containing mud, rocks, stones and other debris, as well as abrasive materials.
Multistage: These pumps are equipped with multiple impellers, providing the additional pumping force required for high-pressure applications. However, they are not a good choice for pumping liquids that contain solid materials. Examples of multistage pump applications include high-pressure services such as pipelines, reverse osmosis and boiler feedwater.
Read Also...

The Best Water Pumps in Nigeria 2021 Reviews
INGCO Water pump JPT07508
Our Water Pump INGCO JPT07508 is very strong and durable. INGCO tools are devoted to making professional quality tools affordable. INGCO believes that top quality refers to not only function, usability and appearance, but also efficiency, performance and maintainability. The whole INGCO team pay great attention to every detail to make INGCO tools stand on the top of the world. GZ Industrial Supplies is the distributor and supplier of Ingco Tools and equipment in Nigeria. Our Water Pump INGCO JPT07508 is very strong and durable.
Technical Specification Of INGCO Water pump JPT07508
Automatic Self-priming Jet Pump
Voltage: 220-240V~50Hz
Input power: 750W(1HP)
Max.head: 45M
Max.flow: 60L/min
Max.suction: 9M
Pipe diameter: 1″"x1″"
Copper wire motor
Copper impeller
0.3m length cable
1pcs 24L cylindrical tank
1pcs pressure switch
1pcs stainless steel hose
1pcs pressure gauge
1pcs brass 3-way
Packed by carton box
Honda Water Pump WL30XH
This Honda Water Pump WL30XH has high power output and superb fuel economy for maximum pump performance.
Our Honda Generator WL30XH pump is easy to maintain, with a carburettor that can be removed and reinstalled while the frame is attached.
Suitable for controlling water levels in ponds, filling or draining swimming pools, or large-scale irrigation. The Honda GP-H engine ensures easy starting, easy usage, outstanding fuel economy, low emission and long-lasting durability as well as compact designs.
Features of Honda Water Pump WL30XH
High-efficiency Impeller
By the CFD* analysis, the flow around the blade surface was optimized. Adopting efficient 4 blade realized pump's high performance.
The invisible water flow inside the pump becomes visible with the analysis using computer simulation. This water flow visualization is the basis of the Impeller geometry optimization.
The new highly efficient impeller enables a smooth flow with minimal resistance. This minimizes energy loss, realizing high efficiency.
Computational Fluid Dynamics:
Numerical analysis and simulation of fluid movement with the use of computer
INGCO Gasoline Water Pump 2" GWP202
This INGCO Gasoline Water Pump 2" GWP202 is ideal for pumping water from deep wells. INGCO tools are devoted to making professional quality tools affordable. INGCO believes that top quality refers to not only function, usability and appearance, but also efficiency, performance and maintainability. The whole INGCO team pays great attention to every detail to make INGCO tools stand on the top of the world. All the INGCO team are based in China to support global marketing. We focus on finding partners overseas instead of setting up our own sales team. Rather than making much advertisement, we prefer to save all extra expense to maximize the benefits to partners. INGCO—Make The World In Your Hands.
Technical Specifications of INGCO Gasoline Water Pump 2" GWP202
Model: GWP202
Suction and Discharge port diameter:50mm,2″
Max. flow: 550L/min
Max. head lift: 28m
Max. suction head: 8m
7.0HP gasoline engine
Displacement: 208cc
Fuel tank: 3.6L
Starting system: Recoil
Inclusions:
1 x Ingco GWP202 Gasoline Water Pump 7HP
Read Also...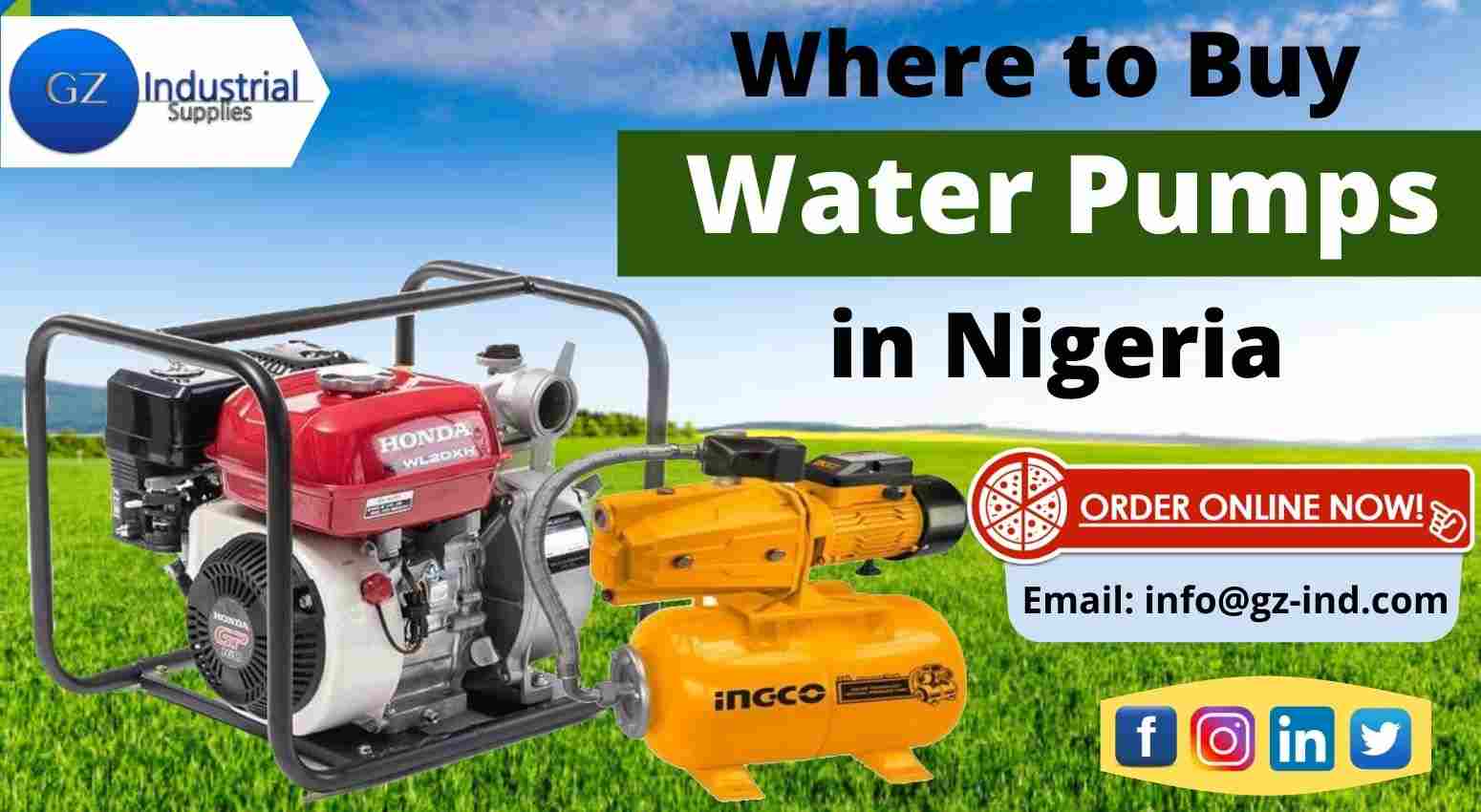 Frequently Asked Questions about Water Pumps
Do Water Pumps Need Maintenance?
If you want to ensure that your pump is reliable and does not fail, you need to invest in preventative maintenance and servicing. In the long-term use of water pumps, due to wear and tear, corrosion, dirt damage, aging and other reasons, Their efficiency will gradually reduce, and problems will also occur. In the face of the pump prone to failure, it is necessary to judge the failure timely. Taking targeted measures to eliminate the trouble, and ensure the stable operation of the pump. Water pumps vary significantly depending on their application and it is important to remember this when looking for information on maintenance and servicing of these systems.
How Long Does a Water Pump Last?
The long-lasting water pump is dependent on the timing belt. The endurance of the pump will last directly on the durability of the timing belt. Usually, a timing belt will last for at least 1,00,000 kilometers to 1,50,000 kilometers. So, you can estimate it as a lifetime for the water pump. Since most manufacturers focus on producing high-quality pumps, you are rest assured of getting a pump with the full lifespan. However, at times, your pump may run into problems.
Conclusion
Water pumps are a great addition to our lives, as they facilitate a great variety of household, industrial and agricultural tasks. However, the assortment of water pumps in the market is so versatile and abundant that choosing the right pump suitable for your needs is challenging. For the sake of making the right decision, it is advisable to get a basic idea of the structure of water pumps. Not only does this information come handy when you select one, but is also very useful during the actual exploitation of a water pump. Water pumps are ever in motion, hence, timely and appropriate maintenance is what ensures smooth and long-term operation. If you are equipped with practical knowledge you are all set to independently choose and operate a water pump and troubleshoot any malfunctions.
Contact GZ Industrial Supplies for more information about The Best Water Pumps in Nigeria.
Recent events
power tool is a tool that is operated by an additional power source and mechanism other than the sol …

Air leaving a compressor is hot, dirty, and wet—which can damage and shorten the life of downstream …

Omode wants to set up a painting shop for his car repair workshop in Benin city, Edo state Nigeria, …