Press Release: Epoxy Oilserv Nigeria Welcomes New Distributors for Her Epochem Brand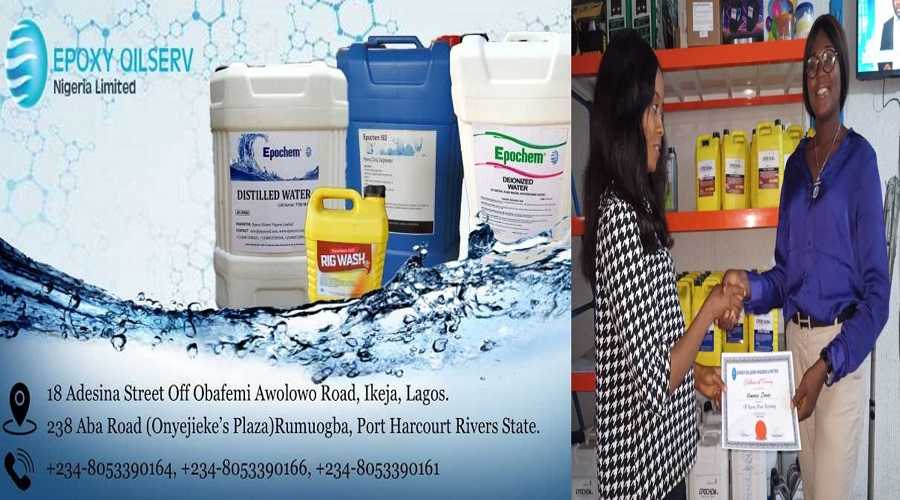 Epoxy Oilserv Nigerias' Leading Specialty cleaning and maintainance chemicals producer and distributor, the Owner of the Epochem brand of chemicals finally recruits new distributors that will help to supply, reports PRLOG.
The Production chemist Mrs. Nwachukwu Roselyn announced this to the public as she welcomes 15 new distributors for Lagos and Port Harcourt "We are pleased to announce to the general public of an opportunity to work with us as distributors of our Epochem brand. We are looking for companies and individuals who are passionate about growth and value delivery; So far we believe that you can offer some level of influence over the local market, creative promotional strategies and access to distribution channels and that is why we choose you to work with us as our distributors within Lagos and Port Harcourt Metropolis".
Epoxy Oilserv Nigeira is a leading producer of protective coating products, industrial Lubricants, cleaning and maintenance chemicals within the Nigeria market. Our products are being used in the Oil industry, Construction, Manufacturing industry and for other Industrial applications. Epoxy Oilserv Nigeria has been in business of production and product supply in Nigeria since 2006. Our ultra modern factory is situated in Port Harcourt with branches in the major cities of the country so as to make our products accessible to our clients.
We are known for quality as many of our clients and existing distributors can testify to this. All our products are in direct compliance to International Standard. Our commitment to our distributors continues to lie in the offering of excellent services, sustained innovative products, certified quality, Professional business support, competitive rate and prices. We have our team of expert who work round the clock to provide technical support to our stakeholders so as to achieve mutual benefit. Some of the products we carry in our Epochem brand are listed below:
Epochem 220- Cleaning Solvent
EPOCHEM 204-Epoxy Primer Hardener (Part B)
EPOCHEM 106 - Clear Hardener (Part B)
EPOCHEM 206 - PU Resin (Part A)
EPOCHEM 150 – Descaler
EPOCHEM 170 - Liquid Drain Opener (Alkaline)
EPOCHEM- Engine Cleaner
EPOCHEM TILE CLEANER
For more information, please visit our site www.epoxyoil.com or call 08053390164, 08053390165, 08053390163, 08053390166, if you are interested in becoming a distributor of our Epochem brand or if you want to make a single or bulk order, do not hesitate to send us a mail through sales@epoxyoil.com/247care@epoxyoil.com. We are looking forward to a rewarding relationship with you.
Recent events
Welding is a process that joins materials, usually metals or thermoplastics, by softening with heat …

Where To Buy Infrared Thermometer in NigeriaInfrared Thermometer is a handheld device that can displ …

Face shield suppliers and distributors in Nigeria As one of the most responsive pioneer Supplier a …