The Best Marine Paint in Nigeria 2020 Reviews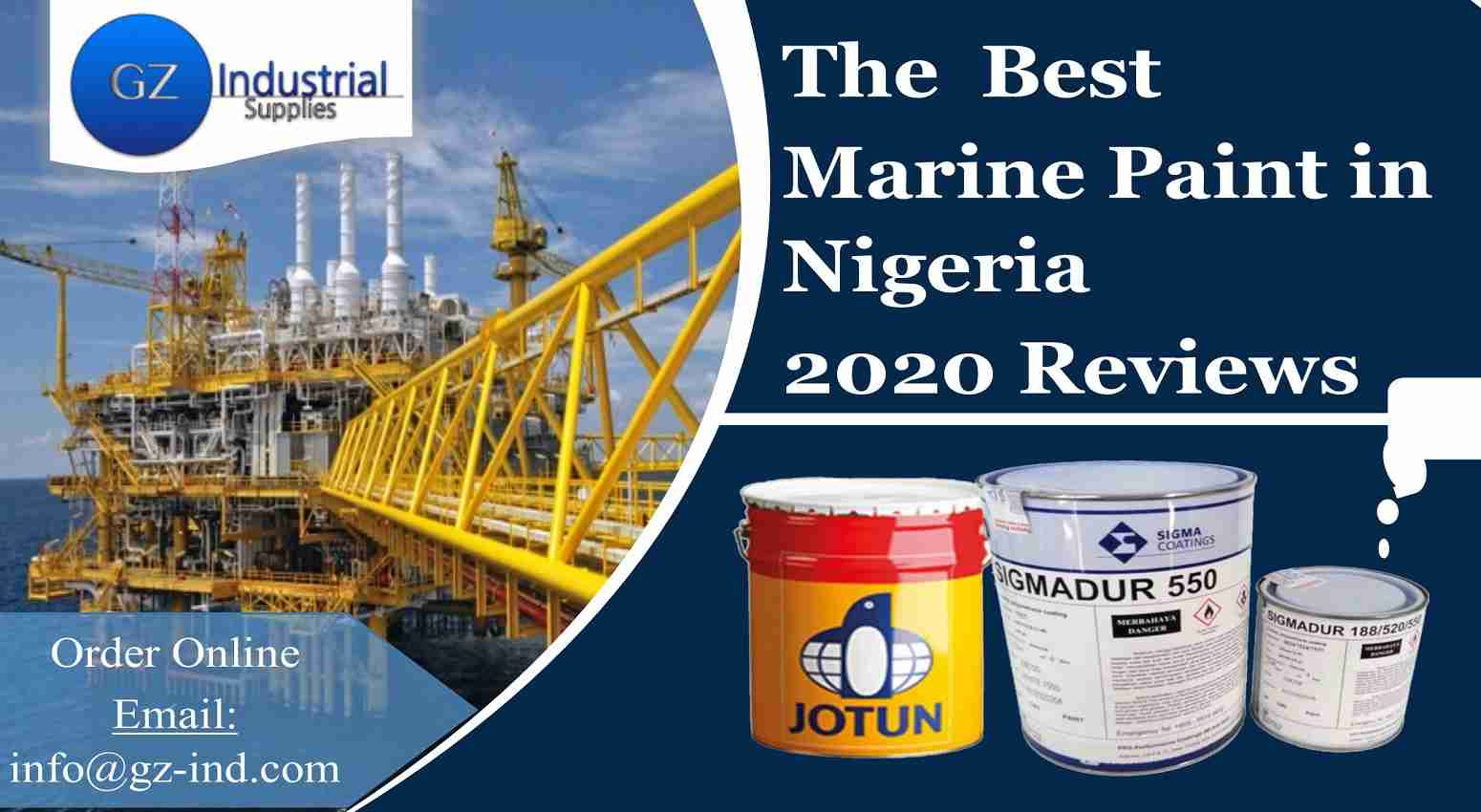 Marine paints and coatings are used in commercial and military ships (for both salt and freshwater), fixed and floating marine structures such as offshore oil rigs, and recreational boats and yachts. Some of them are passenger ships, freighters, tankers, container ships, fishing boats and ferries, as well as oil rigs, inland waterway ships, barges, and tow boats. They are designed with particular functionality properties to best protect and preserve the surfaces to which they are applied. Specific areas of marine vessels and yachts require specially formulated marine coatings for use above and below the waterline. For instance, anti-fouling coatings which protect surfaces from fouling are highly engineered and subject to intense regulation.
Getting to know the concise and correct information on which paints to use on your vessel can be difficult. There are articles on our site that provide information on the different types of paint available and their respective pros and cons.
For the sake of explanation, know that Paint is described as any coloured substance which is spread over a surface and dries to leave a thin decorative or protective coating, it is commonly used to protect, colour or provide texture to objects. It is made mostly in liquid form but can be dried into solid forms. Now, there are different kinds of paint for different uses. This review covers the best marine coatings used in Nigeria.
The main objective article is to assist you as you shop for the right paint for your marine needs. Follow the guide and save your marine structure from further damages.
Sigmadur 550
Sigmadur 550 Sigma Marine paint is a two-component, aliphatic acrylic polyurethane finish. The product is glossy and comes in white and other colors. It is resistant to UV rays and if you prefer excellent gloss retention and sturdiness of polyurethane; this is an outstanding choice to make.
CHARACTERISTICS OF SIGMADUR 550 MARINE PAINT
Unlimited re-coatable
Excellent resistance to atmospheric exposure conditions
Excellent color and gloss retention
Non-chalking, non-yellowing
Cures at temperatures down to -5°C (23°F)
Resistant to splash of mineral and vegetable oils, paraffins, aliphatic petroleum products and mild chemicals
Can be recoated even after long atmospheric exposure
Good application properties
Pros
Available in many different topside colors for you to pick from
Can offer radiant shine and easy to brush
No sweat to apply and capable of producing lasting gel coat-like radiance
Comes with UV filters to improve gloss retention even more
Can guarantee solid and durable polyurethane
Cons
A little messy
Color seems inaccurate
Actually requires more coats than what was advertised
Sigmacover 456 Sigma Marine paint
Sigmacover 456 Sigma Marine paint is two-component, high-build, polyamide-cured recoatable epoxy coating. It functions primarily as an intermediate or Midcoat.
This product color and gloss level is standard and customer colors and semi-gloss.
Please note that Epoxy coatings will characteristically fade when exposed to light (Unlike Polyurethane).
Characteristics of Sigmacover 456 Sigma Marine Paint.
General-purpose epoxy buildcoat or finish in protective coating systems, for steel and concrete structures exposed to atmospheric land or marine conditions
Easy application, both by airless spray and brush
Cures even at temperatures down to -10°C (14°F)
A high relative humidity (maximum 95%) during application and curing does not influence the quality of the coating
Good adhesion on most aged, sound alkyd, chlorinated rubber and epoxy coatings
Can be recoated with various two-component and conventional coatings, even after long weathering periods
Resistant to water and splash of mild chemicals
Excellent corrosion resistance
Tough, with long-term flexibility, color and gloss level
RECOMMENDED SUBSTRATE CONDITIONS AND TEMPERATURES
Substrate conditions
Compatible previous coat must be dry and free from any contamination
Substrate temperature
Substrate temperature during application and curing down to -10°C (14°F) is acceptable; provided the substrate is free from ice and dry
Substrate temperature during application and curing should be at least 3°C (5°F) above dew point
INSTRUCTIONS FOR USE
Mixing ratio by volume: base to hardener 82:18
Adding too much thinner results in reduced sag resistance
The temperature of the mixed base and hardener should be above 10°C (50°F), otherwise extra thinner may be required toobtain application viscosity
Thinner should be added after mixing the components
Pros
Cures even at lower degrees (less than Zero)
Ease of application (airless spray, brush, roller)
Good adhesive properties
Excellent corrosion resistance
Cons
Fades when exposed to Ultraviolet rays
May not last if mixing ratio is not strictly adhered to
Jotun Marine Paint Jotamastic 80 Standard
Jotun Marine paint, Jotamastic 80 is a two-pack epoxy mastic paint, which can be applied at low film thicknesses. Jotamastic 80 is recommended as an anti-corrosive coating for steel above and below water. The aluminium or aluminium red-toned colour should be used below the waterline.
Jotamastic 80 is very surface tolerant, so it can be used with good results in areas where high standards of preparation are not possible. For best results apply two coats above the waterline and three coats below the waterline at a typical spreading rate of 8 sq.metres per litre.
Use Jotamastic 80 Standard when painting at temperatures above 10°C and Jotamastic 80 Wintergrade when painting at temperatures below 10°C.
For a two-pack topcoat above the waterline, use either Penguard Topcoat or the Hardtop range of paints. For a single pack topcoat, use either Pioner Topcoat or Conseal Touch-Up.kw2q
Pack size is 4.6 Litres or 18.3 Litres including hardener.
Product Characteristics
Surface tolerant
Great value for money!
Use aluminium versions below the waterline
Pros
Good anticorrosive quality
Thickness
Cons
May sag if not done properly
Jotun marine paint jotun hardtop clear AS
Hardtop AS is a two-pack polyurethane topcoat that provides a high gloss finish with excellent weather resistance and very good gloss and colour retention - better than most other generic types of topcoat. Hardtop AS is ideal for use over an epoxy based primer (see the Jotamastic and Penguard range).
It is resistant to a number of solvents and various chemicals, has good application properties and cures at relatively low temperatures. It is available in virtually any colour, it is very durable, performing extremely well in an aggressive marine environment. For best results this product should be applied using conventional air spray. Thin with our special slow evaporation polyurethane thinner.
Application method
Brush, roller, conventional air spray or high pressure airless spray
Number of recommended coat is 2
Coverage : 10 m² per litre
Drying time at 23°C: 5 hours
Curing time at 23°C: 5 days
Pot life at 23°C: 4 hours
Thinner: Jotun Thinners No. 10 or SML Polyurethane Thinner
Pros
Very good water resistance
Excellent Chemical Resistance
Very good Solvent resistance
Very good color and gloss retention
Cons
Produces irritating odor when applying
Sigmaguard 720 Marine paint
PG SigmaGuard 720 is a two component reinforced high solids polyamide adduct cured epoxy coating designed for coating tanks in light green or white and when dry has a surface that can easily be cleaned and maintained.
Best Uses of Sigmaguard 720 marine paint
PPG SigmaGuard 720 (Amercoat 90S) is best used for providing a highly protective and decorative protective coating to tanks. SigmaGuard 720 offers excellent resistance to a wide range of chemicals as well as weathering. This product is highly recommended and offers recognised corrosion control.
Applications of Sigmaguard 720 Marine paint
PPG SigmaGuard 720 is easy to apply at low temperatures but dries quicker in warmer conditions. Apply 720 using air or airless spray for easy application and a smooth finish that dries to touch after just 3 hours at 20 degrees celsius.
Surface and Environment
PPG SigmaGuard 720 is primarily a tank coating that can be applied to steel substrates and offers excellent corrosion resistance to prevent cargo users from expensive repairs.
Characteristics
PPG SigmaGuard 720 a two component reinforced high solids polyamide adduct cured epoxy coating
Tank coating with good chemical resistance against a wide range of chemicals
Short curing periods
Recognized corrosion control coating (Lloyd's register), see sheet 1886
Overcoating interval min. 8 hours, max. 28 days.
Pros
Good low temperature curing
Easy to clean
Touch dry after 7 - 8 hours at 5 degrees C, 5 - 6 hours at 10 degrees C, 2 - 3 hours at 20 degrees C.
Theoretical spreading rate 6.2 m2 per litre at 125 microns
Cons
May sag if not done properly
Conclusion
it is imperative to be very meticulous when shopping for marine paint. The product reviews carefully detailed in this article would serve as your handy guide so you will not end up wasting your hard-earned money for a product that won't even provide you the most excellent solution to fading colors and serious ravages over time.
Contact us today for more information, enquiries and procurement of the Best marine coating in Nigeria.
Recent events
The Best Agricultural Machinery in Nigeria 2020 ReviewsFarming is perhaps one of the world's oldest …

Difference Between Hoses and PipesTransporting fluid from one location to another is very important …

WHERE TO BUY AGRICULTURAL MACHINERY IN NIGERIAAgricultural machines have been designed for practical …