Here is the audio of this Article
When it comes to all home renovation projects the electric vacuum suction cup lifter is ideal, This heavy-lifting-made-easy unit makes the lifting of heavy items safer and easier for everyone. It is unmatched in its build quality and work efficiency for both professionals and hobbyists, find out how to use one in this article.
The Electric Vacuum Suction Cup Lifter can lift up to 375lbs, making it small but mighty. The design is small and simple, but that means it is easy to store when not in use, Its simple design means it's easy to transport between the office and home whenever necessary.
WHAT IS AN ELECTRIC VACUUM SUCTION CUP LIFTER?
The electric vacuum lifter is one of the very best technological innovations that are capable of lifting up heavy objects in a variety of ways. It operates by creating a high level of suction, which enables it to stick to almost any flat surface. The tool works very well on rough, porous, and even wet surfaces; thus, it is useful in fixing large-format tiles. Particularly, it comes in handy when resurfacing large tile surfaces that have already been back-buttered or primed because, as you know, these can be hard to fix with just regular screws.
The electric vacuum lifter can support up to 170 kg. And it's fit for use on many surfaces, including plasterboard, checker plates, drain covers, worktops, doors, glass, stone slabs, and numerous other materials.
The vacuum seal also works well on many surfaces by constantly pumping out air at a rate that is greater than the rate of air leaking through the material. The flexible foam rubber seal on the bottom creates an excellent seal by molding itself to any contours and uneven surfaces.
TYPES OF VACUUM LIFTER
There are a lot of different ways to push and pull items with the help of elevated work platforms. One can use heavy-duty lifters, vertical-horizontal lifters, coil lifters, battery-powered vacuum lifters, and possibly others, depending on what one's needs are when it comes down to moving things around.
Heavy-duty: vacuum lifters are made of oversized frames, vacuum pads, and stations that safely guide the machine to lift large items. The press is designed to handle materials, tools, and products such as metal plates.
Vertical-horizontal: lifters can hold a load in place either vertically or horizontally, depending on the application requirements.
Coil: Lifters are vacuum lifters for handling rolls and coils.
Battery-powered: lifters are similar to electrically-powered devices but have a rechargeable battery.
Mobile attachment: vacuum lifters are suitable for use with forklifts, excavators, and other end-effector equipment.
Electric Vacuum Suction Cup Lifter GRABO PRO-Lifter 20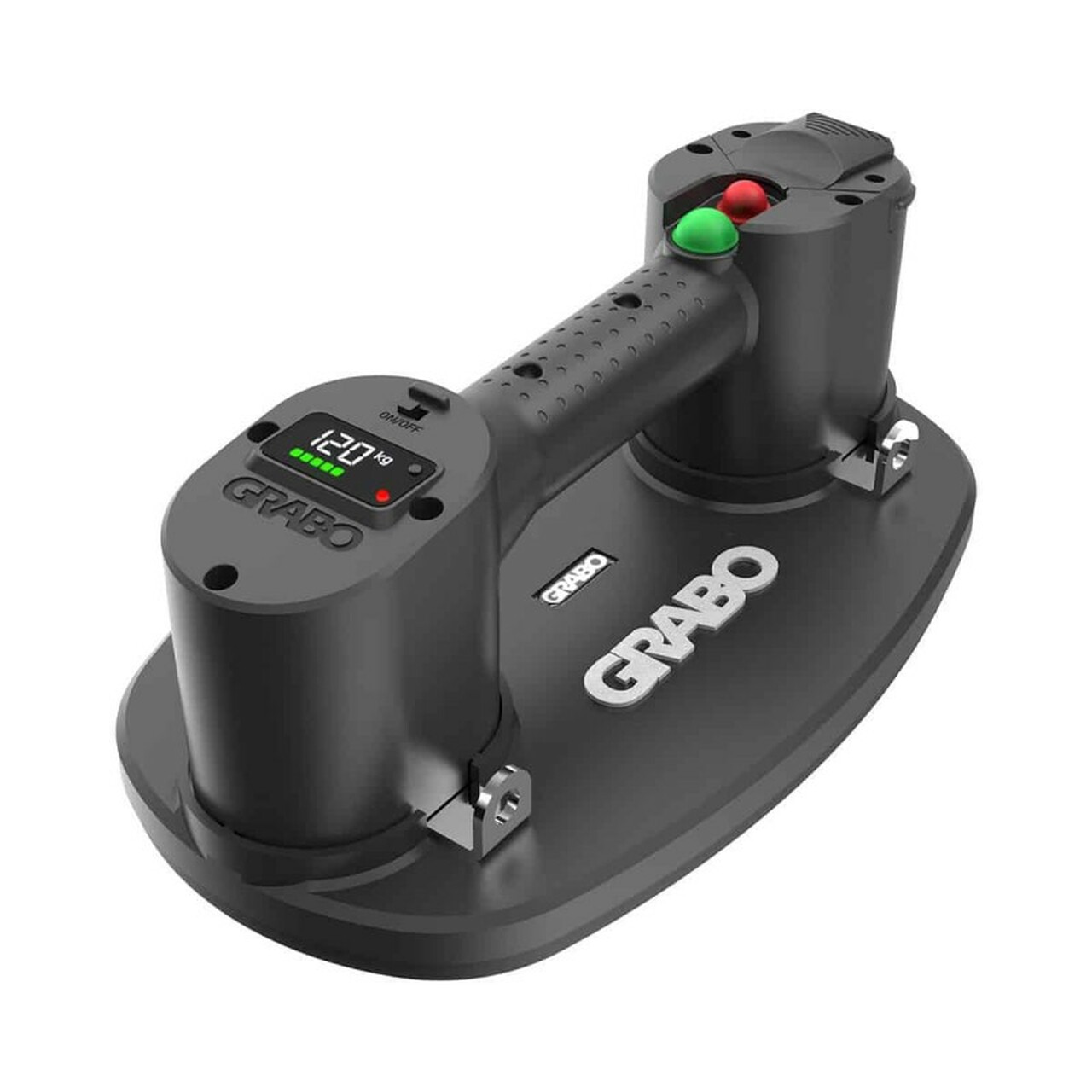 Model/SKU

GRABO PRO-LIFTER 20 / GP-1Li-FB

Battery

14.8VDC 2600mAh Li-ion

Rated Power

16W

Charger Input Voltage

100-240VAC 50/60Hz

Battery Charging Time

~2hrs

Non-Stop Running Time (Full Charge)

1.5hrs

Running Cycles (On Full Charge)

900 ON-OFF cycles of 10 seconds

Stand-by Mode (Charge Hold)

30 days

Pump Service Life

100000+ ON-OFF cycles / 800+ hrs continuous

Rated Air Flow

0.7cfm (20 L/min)

Maximum Vacuum Rate

11.6Psi (0.8 Bar, 80 kPa)

Maximum Lifting Capacity

375Lbs (170 kg)

L x W x H

11.77 x 7.22 x 4.76" (300 x 184 x 121 mm)

Net Weight (With Battery)

3.2Lbs ( 1.5 kg )

Working Temperature

32°F~140°F ( 0°~60 °C )

Applicable Surface Type

Peak/valley heights less than 0.1" (3mm),
arc less than 5°

Additional Features

Pump stops automatically at maximum vacuum
rate ( 11.6Psi / 0.8 Bar )
HOW TO USE ELECTRIC VACUUM SUCTION CUP LIFTER
This guidance may not be applicable in all circumstances, but it is considered good practice, and you might find it useful in deciding what might be required to comply with the law to reduce the risk of injury to workers and other persons while avoiding damage to equipment by fire or explosion.
To use the standard suction cup, press the suction cup against an item (squeezing the air out of the inside). The cup then closes on the vacuum it has created. This action creates suction that enables it to stick to the item and picks it up. There are various types of suction lifters, and some stronger suction cups usually come with an air pump that will manually pump out the air inside the seal, thus enabling the cup to have a tighter grip on the item.
One of the downsides of using a standard suction cup is its ability to handle the weight, but not to worry, GZ industrial supplies have an expert available to advise the best suction lifter for your application. There are some suction cups that can help you to scale a wall, but in a case study where a field worker attempted to climb with suction cups, it was realized that it was much easier and safer with an electric-powered vacuum pump.
The Electric Suction Cup is an electric vacuum-powered suction with a great suction cup need. Thus, It works as well as a standard suction cup, but on top of that, it has this little power boost from the battery-powered vacuum, which creates a firm hold. This great feature is also coupled with the strong and unique seal on the vacuum that the electric Suction Cup comes with, and you have yourself a suction cup that can safely carry up to 375lbs. The Electric Suction Cuplifter constantly maintains a firm grip on the items as you move them.
SAFETY OPERATION PROCEDURE
The following safe working practices regarding the use of vacuum lifting equipment should be considered for inclusion in your operating procedures.
Ensure to use only the right equipment and be aware of the limitations of each device, e.g., materials should be lifted at an interval, not at a time.

The manufacturer's instructions should be used as a guide at all times.

Contact experts to advise the exact vacuum lifter to be used for your operation; every suction lifter has a designed capacity for the load it can handle.

As mentioned earlier, only use the vacuum lifter for the items it is designed for and thoroughly assess the risk of items being lifted and becoming detached. Do not exceed the SWL.

Ensure that there is a good vacuum between the surfaces of the suction pads and the load. The efficiency of the vacuum could be affected by any damage to the suction pads.

There should be Prevention of unauthorized access into 'lifting zones, especially at automatically controlled processes. Also, provide the operators with safe places of work to ensure that they cannot be struck by displaced loads, e.g., guarding.

All movement of materials should be properly organized and managed to prevent injuries and damage to plants, and the travel routes should be clearly defined and maintained.

Transport loaded vacuum pads at the lowest height possible, where practicable, no higher than 1.5m above ground level. Where this is not practicable, other precautions should be considered.

The should be provision for dealing with emergencies, for example, certain programmed actions to be taken in the event of equipment or power failure, and displaced loads should be put into consideration.
CONCLUSION
There are many uses for vacuum lifting equipment, and industrial sectors use it for the lifting and handling of materials that have a flat or smooth surface. The main advantage of using this type of lifting device is that it is able to work on a wide variety of applications and can be used for a lot of different purposes.
Contact GZ Industrial supplies for all inquiries on electric vacuum suction cup lifter.
Recent events
Industrial gases are gaseous materials manufactured in various industries; they include Nitrogen, Ox …

Here is the audio of this Article Agricultural processing machines play an important ro …

Here is the audio of this Article LUBEMAX LUBRICANT IS NOW A MANCAP-CERTIFIED RAN …