Storage shelves are an essential part of every storage system in organizations and the basis of storage. It is essential to employ the safest storage method in all facets of life that requires shelving. The storage shelves are made of high-quality steel plates, and the surface is preserved by electrostatic spraying, which is anti-corrosion and attractive. The storage shelves' numerous specifications and load-bearing designs can meet the requirements of factories, warehouses, assembly lines, shopping malls, offices, and supermarkets.
Moreso, storage shelves are one of the methods for effectively displaying items, and it's important to note that the rationale of using shelves can reduce safety risks and prolong service life. The storage shelving system is a basic requirement for every sector. The storage shelving system is an element that should not be neglected. If the products are not correctly stored, their life may be shortened.
What are storage shelves?
A storage shelf is a flat, horizontal surface used to display or store items in an industrial supermarket, home, business, store, or supermarket. Storage shelves come in various sizes and can be made from various materials, such as wood, metal, or plastic.
The storage shelf is a shelving unit often raised off the floor and anchored to a wall, supported on its shorter-length sides by brackets, or otherwise anchored to cabinetry by brackets, dowels, screws, or nails. However, there are various types of storage shelves which will be discussed in more detail below.
Types of Storage Shelves
1. Heavy-Duty Storage Shelves:
Heavy-duty storage shelving is the perfect solution for garages, warehouses, retail stores, and industrial applications. These include automotive and other spare parts, hardware, bulk retail, general-purpose carton, and archive storage.
2. Rivet Rack Shelving
Rivet rack shelving is an excellent option for those who need an economical way to store various items. The boltless racking system is easy to assemble, and this double rivet shelving allows access to items from all sides. This makes it a great option for those who need to be able to easily access their items. Rivet racks are the best for retail or office purposes or any other light to medium-duty storage needs. They work perfectly as storeroom racks for your stock and are also great for use as metal garage racks. GZ Industrial Supplies has been the industry standard in racking for over a century.
If you're looking for an easy-to-assemble shelving option that doesn't require any tools, boltless rivet shelving is a great choice.
3. Wire Shelving
Wire rack shelving are essential to keeping your product from falling onto the ground (or worse, off the shelving unit entirely). Wire shelving end panels help secure your items and prevent them from falling out of the unit - whether from the front, back, or sides. Our wire rack dividers create separate storage bays within the shelving unit so that your items are better organized and easier to find.
We offer wire shelving label holders to help you keep track of where everything is stored on your shelves. Our wire shelving is made from different materials and comes in various designs and sizes. The most common option is free-standing shelves, but we also offer wall-mounted and hanging wire shelves.
4. Pallet Racking
Pallet racks are designed to store materials on pallets in horizontal rows with multiple levels, allowing for easy material handling and storage. There are many varieties of pallet racks, each with its benefits, but all types offer a practical storage solution for palletized materials. Pallet racks have become common in most warehouses, factories, retail stores, and other storage and distribution facilities. They are used to store goods more efficiently and save space. The costs of pallet racks depend on how dense the storage is.
5. Light Shelf
The light storage shelve is suitable for factories to store bulk items in warehouses, stores, and supermarkets. The light shelf can be Plug-in assembly, convenient installation, and disassembly, with a wide range of uses.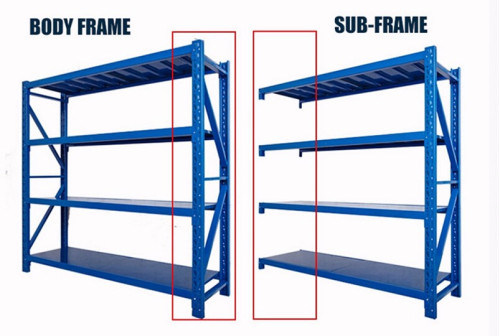 The Cassia Storage shelve
Importance of Storage Shelve
The storage shelf system's importance is increasing daily for the correct stocking and storage of the produced products. Shelving systems must be selected correctly to store products according to the production or expiry date.
We might be in an era where digitization has taken over the world, but businesses still rely on physical apparatuses, equipment, documents, and more to run efficiently and effectively. Furthermore, many companies prefer to keep additional products on hand for quick and easy stocking. This is why one of the most modest pieces of business equipment, the storage shelves, is most valuable for proper organization. Storage shelves are essential in increasing organization, efficiency, and productivity. Here is the importance of storage shelves.
1. Versatility
As your business expands and changes, so too can your storage shelves to accommodate your new needs. For example, some shelving units have adjustable shelves that can be moved up or down to store different items, while others can be added on to, increasing the size of the unit. This way, you can be sure that your shelving will always meet the demands of your business!
2. Durability
When business equipment breaks down, it costs money to replace and can represent an inconvenience that affects office work. Fortunately, many storage shelves, including metal storage shelves, can hold up for the long term. These shelving units can support heavy loads and withstand cold or hot temperatures. Heavy-duty storage shelves are the way to go if you want equipment to last.
3. Increased Organization
One of the most significant benefits of storage shelves is their ability to help companies organize physical materials or products. Shelving enables you to arrange the tools and products that help your business run. If you've ever had to wade through stacks of unorganized records or search a massive warehouse for the piece of equipment, you know how critical it is to find what you need as quickly and efficiently as possible.
4. Better Efficiency
Every time your employee has to spend 10 minutes wandering around looking for the item they need, that's 10 minutes they aren't spending doing something more substantial. Well-organized wall storage shelves let your employees find what they need quickly and efficiently, helping to keep the work flowing smoothly.
5. Space Optimization
Space equals money, especially for businesses needing to rent storage space or protect valuable warehouse square footage. Storage shelves allow companies to use every inch of space, including vertical space, to store their most important materials. Adding storage cabinets with shelves can dramatically free up space and help improve traffic flow within the business.
6. Easy to Assemble
Many storage shelves come in pieces but are usually easy and quick to assemble. You likely won't need any complicated tools or an advanced degree to put them together. Depending on which type of shelving you purchased, you may only need to install rivets. In many cases, you and your team can assemble your shelving the same day it arrives. If you aren't comfortable assembling your shelves, you can ask your service representative if they can provide the assembly with your order or as an add-on cost.
7. Limits Item Loss
Storage shelves make it so that every piece of valuable business equipment has its designated space. This allows things to be more easily found and helps prevent them from getting lost in the shuffle. Instead of having a tool or piece of equipment shoved into a corner or tossed into a drawer where no one can find it, your employees can locate whatever they need to do their job. By increasing the visibility and accessibility of all your tools, storage shelving units make it easier for your team to be productive.
Where to Buy Storage Shelves in Nigeria
GZ Industrial Supplies Nigeria Limited is a supplier of Industrial storage materials and heavy duty commercial garage storage systems; Our storage shelve is made with quality in mind! Lock all your supplies and tools securely with our Heavy-Duty Ultra HD Commercial Storage Cabinet. These cabinets feature quality powder-coated construction. Conveniently adjust the shelves to your specific needs and easily roll the cabinet around as you like.
Heavy Duty Combination and Janitorial Cabinets are solidly constructed with 12-gauge all-welded steel for long-lasting durability and strength. Features a pad-lockable 3-point latching system. Heavy Duty Combination and Janitorial Cabinets Provide Secure Storage Of Heavy Duty Commercial And Industrial Supplies.
GZ Industrial Supplies Nigeria offers one of the largest selections of industrial cabinets and heavy-duty storage cabinets. Choose from a broad selection of Mobile Cabinets, Bin Storage Systems, Flammable Cabinets, and more. Quantity Discounts and Custom Fabrication Services are available.
Frequently Asked Questions on Storage Shelves
1. Where should heavy items be stored on shelves?
Always place heavier loads on lower or middle levels of heavy-duty storage shelves. Store long and heavy items on their side to prevent the risk of tipping. Label all heavy storage items so materials can be more quickly located. Keep heavier items properly tucked away for safe retrieval and transportation.
2. What is shelving as a storage system?
Whether it is a cabinet shelf storing books or an industrial shelf storing tools. The use of industrial shelving is a great option in warehouses and workshops. In the main, the use of shelving systems is to store items accessible by hand
3. What is the use of a storage rack?
Used for short or long-term placement of materials, products, and loads in a facility, storage racks hold items in an organized area.
4. Why should I maintain my storage shelves?
Maintaining shelving is important from a safety standpoint since corrosion can compromise the stability of these systems. If properly maintained, the storage shelf life durability will be guaranteed.
Conclusion
Storage shelves are very important for industries that deal on a variety of industrial product, documents and for proper organization of product in showrooms, supermarket, ware house, the need for storage shelves is essential. The correct storage and business shelving units can help any company, agency, or employee organize work items such as products in an efficient, easy-to-access manner. So, storage shelving should not be undermined in any industry if you want to achieve increasing organization, efficiency, and productivity in your business.
Contact us for further details and the availability of Storage Shelves with the storefront in your location.
Recent events
Vacuum cleaners are great for removing dust, dirt, and other small particles from many surfaces. The …

Epoxy Oilserv Unveils LubeMax High-temperature Multipurpose Lithium GreaseLubemax High-Temperature m …

Storage shelves are an essential part of every storage system in organizations and the basis of stor …