The rapid development and growth in recent times have led to the construction of major roads and highways in the big city. Road construction done without using road marking paints can mislead road users, thus increasing the rate of accidents. Most of the constructed roads are marked for both beautification, road signs, and directions for road users.
Road marking is also known as line marking and the standardized system of lines, colors, and symbols employed can vary depending on the current state and federal guidelines; even the underlying goal is always the same, thus ensuring the safety of the users (e.g., bikers, drivers, and walkers).
There are different types of road marking paints that offer unique characteristics that make them suitable for other purposes. Below we will further discuss the various paint classifications and how to choose the right one for a road marking project.
Table of Contents
Introduction
What are road marking paints
Paints and machine used for marking road lines
How are road markings made?
Major Types of Road marking paints
How to decide what paint for road marking?
How to mark the roads correctly?
Why you should use a road marking paint
The importance of using standard road marking paint
Frequently Asked Questions
Conclusion
What are Road Marking Paint?
Road markings paints indicate the number of lanes on the road, where you may overtake other vehicles, which route to use for turning, and where you must stop for signs or other traffic signals. Road markings are basically four major types center lines, edge lines, crosswalks, and pavement messages.
Paints and machine used for marking road lines
Road markings with paint are a serious business and thus must be taken as such. Road surface markings are used in tarred ways to give guidance and information to pedestrians and drivers. The uniformity of the markings is an essential factor in minimizing confusion and uncertainty about their meaning. Also, the signs and symbols accompanying it should be understood by all road users, and efforts exist to standardize such markings across borders. However, countries and areas categorize and specify road surface markings differently. There is three major road marking materials which include:
Thermoplastic Paint, cold Paint (Methyl Methacrylate), and two-component road marking paint (water base paint and Epoxy Resin).
1) Epocoat 410 Road Marking Paint 4L
Tikweld Welding Supplies and Services is the distributor of Epochem Industrial Chemicals in Nigeria. This Epocoat 410 Road Marking Paint 4L is a high performance chlorinated rubber based road marking paint on bitumen and concrete surfaces e.g. roads, car parks and parking bays.
Features of Epocoat 410 Road Marking Paint 4L
Fast drying
High abrasion resistance.
Highly compatible with reflective glass beads.
The beads adhere well to the paint and the coating maintains its reflective properties for long period of time
Free from cracking with excellent weather exposure resistance.
Directions for use
Ensure that the road surface is clean, free from dust, oil and grease
Heavy deposits of earlier paint or thermoplastic should be removed
Wire brushing and water washing is recommended for removal of dust from
the road surface
The surface should be thoroughly dry and free from moisture before painting
Surface temperature must be at least 3°C above dew point but not above50°C
Do not paint at temperatures below10°C or at relative humidity over 85%
Under cold and humid conditions the paint would require longer drying time.
Technical Data of Epocoat 410 Road Marking Paint 4L
Finish: Glossy
Colours available: Yellow, Black, White
Spreading Rate: 8-10m2/lit at 35 microns dft
surface roughness
Drying time: 30 minutes
Recoating time: 90 minutes
Full cure: 90 minutes
Storage - Store at temperatures between 5°C and 40°C, away from direct sunlight, open flames or sparks.
2) Floor Marking Paint EPOCOAT 408
Tikweld Welding Supplies and Services is the distributor of Epochem Industrial Chemicals in Nigeria. This Floor Marking Paint EPOCOAT 408 is used to section off different areas of a warehouse (or factory) to prevent accidents or to designate where items should be stored.
If you have a facility that needs lines constantly painted to differentiate specific production zones and signal hazardous areas, you need Floor Marking Paint EPOCOAT 408. If you choose floor paint, you will need factory and warehouse floor paint products that will stand up to regular foot, truck, forklift and pallet jack traffic. They will also need to be applied relatively fast and affordably. The options we have for floor paint are industrial strength options, including shot blasting and custom install.

When it comes to visual communication in the work place, floor markings are one of the most popular tools. Marking floors is an easy and unobtrusive way to convey information to improve efficiency and safety. When facilities decide to use floor markings, it is smart to learn about all the different options available.
Floor Marking Paint EPOCOAT 408 is extremely common in manufacturing, warehouse, and retail locations. When applied properly, it can remain in place and provide excellent visibility for years. This type of floor marking is great for both large areas and small.
When applying floor marking paint, it is important to make an effort to keep it neat. If the paint is not applied with crisp edges, it may be more difficult to see and understand from a distance. Using outlines is a great option for making sure the paint is applied exactly where it needs to be and nowhere else.
Another thing to remember is that floor marking paint takes time to apply and dry before anyone comes in contact with it. Unlike tape, which can be walked on immediately, paint should be allowed to dry at least overnight to avoid having it streak or get spread over the facility. Once the paint is dry, however, it can stay in place for years without any significant issues.
Technical Specifications of Floor Marking Paint EPOCOAT 408:
Brand: EPOCOAT
Weight: 4kg
Colour: Yellow
3) Road Marking Machine HVBAN HB3400
GZ Industrial Supplies Limited is the distributor and supplier of HVBAN fluid paint equipment in Nigeria. This Road Marking Machine HVBAN HB3400 is a line striping machine with piston pump , equipped with reliable famous HONDA engine for ensure you the plenty of power for your heavy jobs. The machine is ideal for medium size projects on athletic fields and pavement working, easy maneuverability makes turns and stenciling easy and fast.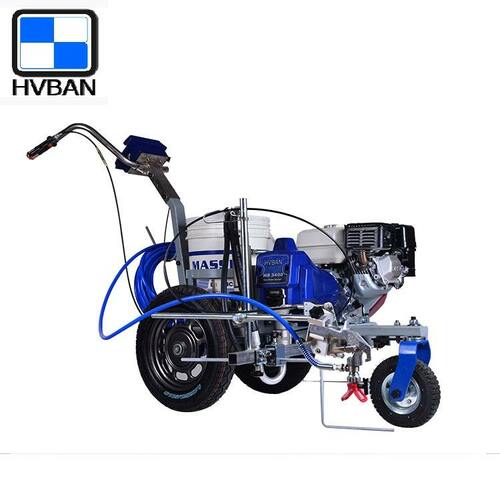 Advantages of Road Marking Machine HVBAN HB3400
1. High quality pump
High quality pump is ideal for low to high viscosity traffic paints spraying.
2. Smart pressure control
Digital pressure display, easy control and operate.
3. Adjustable gun bracket
Versatile gun bracket can be adjusted according to your working demands.
4. Handle bars control
Both handle bars control are designed for more comfort and better control without stopping production.
5. Swivel front wheels
Swivel front wheel makes striping up to the curb easier. Stripe arcs and curves with ease.
Product Specifications:
Model: HB 3400
Maximum flow: 3.1L/MIN
Maximum working pressure: 22.7Mpa
Power source: Honda gasoline engine
Dynamic power: 4125W/5.5HP
Motor speed: 3600
Performance benefits: engine power
Replacement frequency :500h
Package dimension: 108X67X82CM
Net Weight: 75KG
Gross Weight: 105KG
Wearing parts: plunger rod,gasket and seal kit
How are road markings made?
Road marking is also called line marking or pavement marking) can be applied using a combination of materials and paints dependent on the surface and mark. These constituents have different properties, such as anti-skid, reflectivity, longevity, and performance. The applications determine the surface. The materials used in the road and floor markings are:
Thermoplastic
Water-based Paint
MMA
Epoxy resin
Major types of road marking paints
1) Thermoplastic paints
This paint, also called "Hot melting paint," is a thick coating that resists wearing, bright, and reflective paint when applied at 200 °C as road surface markings.
Thermoplastic can be applied for large anti-skid areas on tarred roads and pedestrian walkways by inserting glass beads. It can be produced in various colors (depending on the choice of road construction) and is suitable for car parks, factory walkways, manufacturing sites, tunnels, and many other areas. It cures quickly and can be driven over after just a few minutes.
2) Water-based paints
These paints are durable and reliable for traffic Paint solutions with smaller environmental footprints. They comprise various materials, with the polymer binder usually being an acrylic latex.
This is a visibly bright paint with anti-slip properties. It is used in car parks, racing tracks, outdoor basketball courts, airfield runways, and other less dense traffic areas. This water-based paint is more eco-friendly than other road markers and has a vast range of color options, making customization possible.
3) Acetone road paint
The Acetone road paint is highly durable and greatly adherent to various substrates. It is best used on cured asphalt surfaces and is ideal for marking roadways, airports, parking lots, and other high-traffic areas. Glass beads can also be added to acetone road paint to improve visibility.
4) Cold MMA plastic marking paint
MMA (Methyl Methacrylate) is a solvent-free cold plastic marking paint encompassing the benefits of both paint and thermoplastic. It is exceptionally reliable and holds color well without fading, making it perfect for areas with dense traffic, junctions, roundabouts, and pedestrian crossings. It is cold-applied and cures fast, which allows work to be swift.
5) Solvent-based paints:
They are oil-based paint that contains a greater quantity of organic compounds than water-based compounds. They allow a faster drying time, usually not affected by humidity and temperature, just like water-based coatings. They are made from synthetic acrylic, plant-based alkyd, and similar polymer materials.
6) Two-component paints:
The two-component paints consist of two separate components, which are the polymer base and curing agent). When these components are combined, it results in a chemical reaction that facilitates the rapid drying of the paint. This type of chemical reaction is also not affected by temperature and humidity.
7) Low VOC solvent-based paints:
This type of paint uses solvents, primarily acetone. According the EPA, it classified acetone to be exempted from detrimentally affecting the VOC of the coating, thus allowing the use of a solvent-based coating where a water-based coating was previously needed to meet the low VOC requirements.
8) Bio-renewable paints:
This type of paint have a significant quantity of bio-renewable material, which makes them a more eco-friendly and a more sustainable road marking option.
How to decide what paint to use for road marking?
When choosing a choice of paint for a road marking project, there are essential factors to keep in mind, such as:
1. State and national regulations.
The regulations surrounding road marking vary from country to country and state to state though some state rules are more strict than federal rules. One of the factors affected by both state and federal requirements and restrictions is the VOC content of the paint; in the United States, national road marking standards call for formulations with less than or equal to 150 g/l of VOC, while some states (e.g., California) demand paints with even smaller quantities of VOC. Check out this map for additional information about state VOC limitations.
2. Location.
Guidelines for road markings can also differ depending on where the markings will be placed (e.g., road vs. parking lot vs. airport runway). For example, high-traffic areas (e.g., parking lots) require paints that demonstrate high durability and longevity, while areas that require high visibility (e.g., airport runways) need paints with high reflectivity.
3. Environmental conditions.
The conditions to which the road markings will be subjected should be put into consideration as it affects how long they will last. For example, paints with high-quality pigments are ideal for environments with high concentrations of UV light. water-based paints are not suitable for environments with high moisture content.
How to mark the roads correctly?
The following steps have been used to mark the road successfully;
setting out and making symbols according to the planning drawings and choosing clear marking paint for symbols. The diameter of the symbol is approximately ten millimeters. After the finishing symbol, the starting position of the dotted line and obstruction line shall be marked on the road. Apply for inspection and ask for approval after inspection. And then begin marking construction.
manual cleaning is used to clean the road surface. Water washing and forest fire extinguishers are used to clean the road surface as needed. It is necessary to clean the road surface before marking to ensure there is no dust and other debris.
select mechanical spray paint and add glass beads to the paint. The content of glass beads is 0.8kg/L before participating in mechanical mixing evenly. Test spray and adjust the application quantity according to the application quantity of standard rules until standard requirements are satisfied. Before formal construction, operators train and conduct trial work to ensure beautiful alignment. Select manual marking in exceptional cases, and two coatings should be applied. Paint the second layer after the first layer is dry.
during the construction process, the construction should be finished at the same time with no throwing, sprinkling, dripping, leakage, pollutants, and no leakage appearance of mechanical equipment. Finish a section of marking and a section of pavement, and adhere to road cleaning without pollution and damage.
Safety protection and product protection:
Select protective personnel when marking (standard-bearer) combined with road cone to protect safety. Select road cone to protect it after the completion of marking; rolling by vehicles is not allowed until the paint is dry.
Why you should use a road marking paint instead of conventional paint;
1. Different chemical properties
Road marking paint is a one-component self-drying paint composed of modified chlorinated rubber resin, various color pigments, wear-resistant fillers, additives, and solvents. It is an organic chemical polymer material, and the formed coating is a type of polymer compound. Paint is a kind of chemical mixture paint that can firmly cover the surface of objects for protection, decoration, marking, and other special purposes.
2. Different uses
Road marking paint includes solvent-based and hot-melt reflective types at room temperature. It is suitable for traffic marking and re-routing various asphalt or concrete pavements. It is the first-choice marking paint for expressways, high-grade, and high-volume highways. Ordinary paint can be applied to walls, woodware, etc.
3. Different performance
Compared with ordinary paint, road marking paint has a hard film, good color retention, superior weather resistance, fast drying performance, high adhesion, and good wear resistance. Ordinary paint is a kind of epoxy zinc-rich heavy-duty anti-corrosive powder coating. The zinc powder content is between 85-95%, and the coating film is only 100 microns thick. It has low cost and excellent performance.
The importance of using standard road marking paint
The strength proves very beneficial to the road marking infrastructure. The lifespan of these markings increases, which means we can have a very effective way of implementing road markings as frequent maintenance decreases drastically. Moreover, today we can see that these thermoplastic markings are widely being used on many roads or car parks.
Safety
Talking more about the benefits of using thermoplastic road marking paint, how can we ignore the improvement to road safety. This road marking paint is made of highly reflective materials, which makes it a lot easier to see even in bad weather or any situation where visibility is poor. It also aids in creating awareness of foreseen danger spots and advises drivers to keep proper control in regulating their speed.
Other Application
In applying road marking paint, both pedestrians, cyclists, and motorists could also reap the benefits of thermoplastic markings. These paints are applicable in different forms of marking, such as cycle lanes, car parks, bus lanes, or built-up areas for dense traffic segregation.
Frequently Asked Questions
Q1: What is the difference between temporary road signs and road markings?
Temporary signs are mostly used as temporary traffic arrangements for major events or if a section of road is closed because of an emergency or road construction, e.g., the "Men at work" sign. They are used to give warning of possible hazards, hindrances, or information or guidance about temporary traffic arrangements. They can be regulatory, warning, or informatory. Temporary signs are as important as permanent signs. You should look out for them even if you are on a familiar road. But road surface markings are used on paved roadways to provide guidance and information to drivers and pedestrians. Uniformity of the markings is an important factor in minimizing confusion and uncertainty about their meaning, and efforts exist to standardize such markings across borders.
Q2: How long does water-based marking paint last?
Over time, water-based paint effectively creates marks that last up to 30 days on concrete, asphalt, gravel, grass, brick, etc.
Conclusion
Road markings will play a role in the future as they will guide the navigation of driverless cars. However, today, road markings convey a range of information to road users spanning navigational, safety, and enforcement issues, leading to their use in road environment understanding within advanced driver-assistance systems and consideration for future use in autonomous road vehicles.
Recent Posts
Where to Buy Dental Products in Nigeria Oral health is a vital aspect of overall well-being, an …

Reliable and efficient industrial supplies are the lifeblood of any thriving industrial sector. …

In the construction industry, the selection of reliable suppliers for structural steel material …