How To Get Shine Back On Epoxy Floor
poxy flooring is an attractive and resilient option that's durable, versatile, and easy to maintain. Many homeowners and businesses invest in epoxy for garage, basement, porch, store, and warehouse floors. One of the best things about epoxy flooring is how well it cleans up after years of wear and tear, you can make these tough floors look good as new in just a few steps. Maintaining epoxy flooring doesn't take a lot of work, but it does take certain tools and know how. Follow this guide to make your epoxy floors look and perform their best.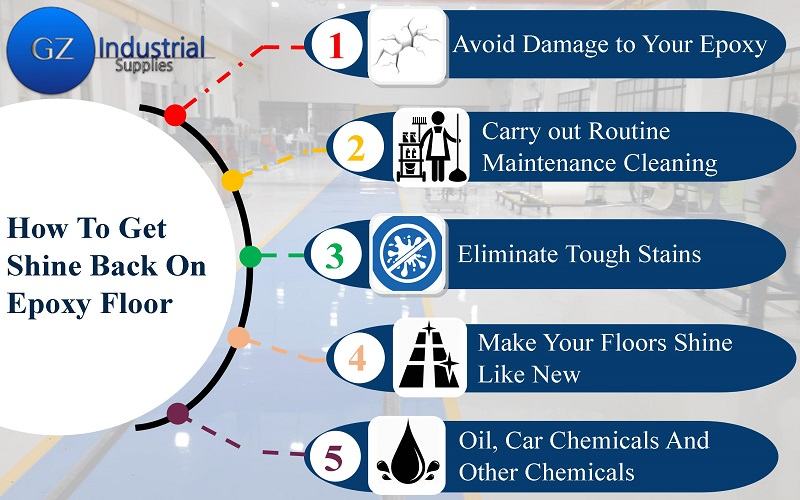 Avoid Damage to Your Epoxy floor
Epoxy is extremely durable and made with multiple layers of coating, but they are not indestructible. Prevent damage to your epoxy flooring by placing soft pads under bicycle and motorcycle kickstands in your garage. Even something as simple as a computer mouse pad will work. Any furniture that may scratch your epoxy also needs protective pads. If you have to lift heavy loads with rolling jacks on your floors, place plywood under jack stands. Use a welding mat if you weld above your epoxy flooring. Epoxy is very scratch resistant, but it doesn't hurt to take precautions.
Carry out Routine Maintenance Cleaning
Like any floors, epoxy requires simple maintenance measures to stay shiny and aesthetically pleasing. Luckily, epoxy coatings are incredibly durable and easy to clean. Minor maintenance can prevent large-scale messes from piling up on your epoxy flooring, making it look and perform better throughout the year. It also makes annual or heavy cleanings easier.
For any liquids spilled on an epoxy floor, simply wipe them up using a soft cloth or paper towel. Use a broom or industrial wet/dry vacuum cleaner to pick up any dust or debris. A soft-bristle broom or blue commercial dust mop are great options for routine epoxy floor maintenance, because they won't scratch the shiny surface. Investing in color chip epoxy floors can limit the amount of cleaning you have to do, since it's more difficult to see day-to-day dirt and scuff on these multifaceted surfaces.
Eliminate Tough Stains
If something soils your epoxy floor, such as engine oil, a simple solution of ammonia and water should adequately remove the stain. Treat spills as soon as possible to prevent staining. First, sweep away any dust and debris from the area. Then, mix five ounces of clear ammonia per gallon of hot water. Soak a hard foam mop in the solution and completely scrub the soiled area. Mopping epoxy flooring with this mixture removes many types of stains without hurting the epoxy coating.
Some stains, such as rust, may require additional light scrubbing with a kitchen scrubbing pad. Do not use a steel-wool or other metal scrubber, or you risk scratching the epoxy. Scrub the area with hot water to remove tougher stains. If hot water doesn't do the trick, try using a bit of Soft Scrub. This is a nonabrasive cleaner that will not harm your epoxy. Do not use abrasive cleansers, chemicals that contain acids (including citrus cleaners), or soap-based cleaners on epoxy flooring. These could lead to damaged or clouded-looking floors.
Make Your Floors Shine Like New
New epoxy flooring shines beautifully, but over time may fog with compounds from your vehicle or foot traffic. At least once a year, clean your entire epoxy floor to make it shine like new again. Do this by hosing off your floors with hot water, using a squeegee to dry. This should remove any cloudiness or residue on your floors. For spots that still aren't clear, spray some all-purpose surface cleaner and wipe the area with a soft cloth.
Oil, Car Chemicals And Other Chemicals
Wiped up antifreeze, oil and other car-related chemicals with shop towels or a paper towel and dispose of properly. The important thing about car spills is to not allow them to sit on the floor surface for too long. Even engine oil has chemicals that could be potentially hazardous to an epoxy floor. Clean up spilled gas immediately, because it will damage the surface of an epoxy floor if allowed to sit for too long. Paint, household cleaners and other abrasive liquids need to be cleaned up immediately. To clean, wipe them up with shop towels as soon as the spill occurs.
Employ the service of an Expert
Bringing in a crew of professionals is a smart decision if you have stubborn stains, cloudiness you cannot get rid of, or a large surface area to clean. Epoxy floor Experts will shine and polish your floors quickly and efficiently, making them look as brilliant as they did when they were brand new. At GZ Industrial Supplies, we have competent field expert for all your Epoxy floor solutions.
Epoxy floors are a great choice in floor coating for multiple light industrial or residential applications. Caring for your floor will take a minimum amount of time, but it needs to be done regularly. We have superior epoxy floor coating products which are designed to be hassle-free and maintain their glow for many years after the installation. Ready to learn more about How To Get Shine Back On Epoxy Floor? Please contact us.

Recent events
If you are working in industries such as aviation, construction, automotive or mechanical engineerin …

Epoxy flooring is one of the most sorts after flooring solutions in 2023 because it is sturdy and ca …

The cassava grating machine is an agricultural processing machine that plays an important role in th …