Potable & Bulk Water Transfer Brine Hose
CORRUGATED COVER AND UHMWPE CHEMICAL HOSE
Water Suction / Discharge Hose
Not your traditional hose
What was most intriguing was its effect on the industrial hose market. This was an escape from the traditional hose business, which mainly concentrated on heavy industries such as steel, agricultural, and pulp and paper. Operators and industrial hose manufacturers quickly learned that industrial hoses were one of the most critical parts of these new processes. The applications ranged from water delivery to drilling/frac site to the drilling hoses themselves. Each process had different criteria for these kinds of hoses.
Traditional hose use was attempted in these different applications, but these hoses were inadequate in most cases. Manufacturers got quite aggressive in developing hoses to meet these demands, which included higher pressures and larger volumes than industrial hose manufacturers were accustomed to. The product depth to accomplish all that was required in these applications was not available. Challenged by these new processes and pressure/volume requirements, many of the large contractors counted on hose manufacturers to provide products that would not fail in the field before a job was completed.
Strong hoses able to withstand the rigors of the environment and materials that flow through them were required in several phases of the drilling and completion processes. These included:
Moving water used to blend drilling mud and fracking fluid (which includes proppants, chemicals and water)
Pumping drilling mud downhole
Pumping cement downhole
High-pressure pumping fracking fluids downhole a hose.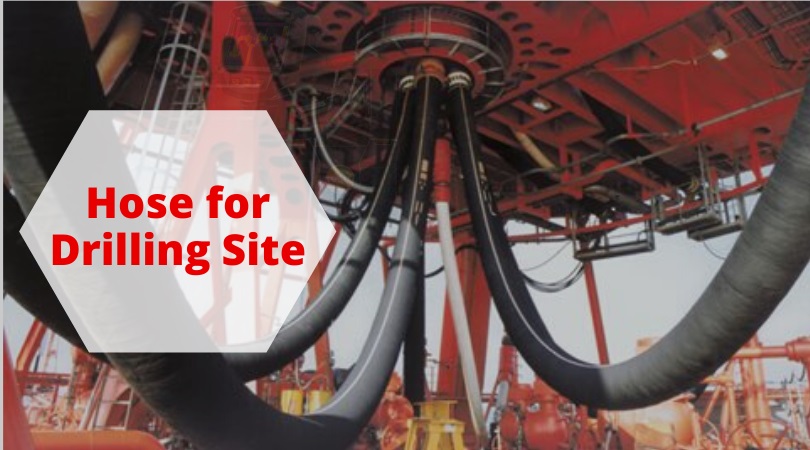 Drilling platform
Hose for the drilling site
During the drilling process, a mixture of water, mud and drilling chemicals or lubricants is used. This mixture can be quite demanding on hoses. Many manufacturers have developed specific blends of hose material to withstand this process. They should typically be rated at 400 psi or greater to prevent premature failure. Typically, the recommendation is for the hoses to be crimped on the termination ends in lieu of band clamped for safety reasons. This hose is typically used to transfer these liquids to the mixer tanks that blend and supply the mud pumps.
Once drilling starts, the drilling fluids are pumped at high pressures into the mud pump and drill hoses. Selecting these hoses is crucial, and they should only be supplied by manufacturers that are certified to build them. These are the costliest hoses on the rig and are the most crucial in the operation. Most drillers require American Petroleum Institute (API)-certified hoses built to a tough standard. These hoses are responsible for carrying the cutting fluid and mud to the wellhead and are used to remove the cuttings from the hole. Properly sizing these hoses is important because they are in constant motion in traveling loops.
Failure can cause a rig to stop drilling operations until the affected hose is replaced. These hoses' times of service should be tracked, and they should be replaced frequently (typically every 12 months). They should also be inspected during operation for any unusual pulsing in the hose assembly. Pulsations can typically occur if compensator units malfunction. If this occurs, the hoses start acting as the compensator and can cause premature failure during drilling.
Cementing hoses
After drilling is completed and the pipe is in place, cement is pumped down-hole to form the well casing. Careful selection of a cementing hose is also important because it involves pumping a heavy volume of material at higher than normal pressures. Abiding by the API guidelines when selecting this hose is also paramount.
This hose is prepared to depart for duty at a fracking site.
Frac hoses
These hoses are designed to withstand the harshest of applications and weather conditions and it traditionally have added outer protection to prevent wear on the outside of the hose. The hoses must be designed to handle at least 400 psi of pressure. Even though these pressures are rarely reached, this capacity adds extra strength to withstand the conditions.
After the casing is in place, the well is ready for the fracking process. This is when most hoses are used in the process. During fracking, water is mixed with chemicals and proppants, typically sand, and sent down-hole at high pressures to stimulate the well to produce more oil or gas. A series of tanks on site are connected with hundreds of feet of hose and are sent to a common blender before being pressurized for delivery down-hole.
One of the most demanding parts of plumbing these units is routing. Routing these hoses as free as possible is important. Sometimes tight bends are unavoidable in this process. However, the tighter the hose bends the more vulnerable that hose becomes once pressurized. The outer cover of the hose must also be protected because abrasion is the number one cause of hose failure in the field. More than 90 percent of all hose failures occur from the outside in and are not necessarily caused by the media being conveyed.
Redefining of Hoses
The onshore drilling industry helped redefine traditional hose use. Hose manufacturers were faced with the most challenging obstacles experienced to date. Manufacturers spent most of their energy making their hose offerings more affordable in a shrinking market amid global pressures. This industry led to brand new products to suit the need of the oil operators and developed these new products from the ground floor by spending time in the field with the end users. Many of the products that were developed became standard product offerings replacing traditional products. Although the demand was for a less costly hose, manufacturers and domestic quality vendors worked together to develop safe products at a competitive price.
The Need for Gz Supplies
At Gz industrial Supplies, we exceed our convenient to ensure quality products and services for our customers. We provide same-day services on our custom options, and we keep a large stock of hydraulic hose assemblies and supplies on-site. If you are interested in Industrial Hoses for oil and gas industry or would like to know more about Industrial Hoses for oil and gas industry, contact us at www.gz-supplies.com or call +234 8181069339. Our team can answer any questions that you might have and help you find the parts, products, or components that you need.
Recent events
Epochem Sodium Hydrochlorite BestEnvironmental Disinfectant in NigeriaAs Livinus Osas walked around …

Current petrol priceThe Federal Government on Tuesday night reduced the price of petrol from N125/l …

SODIUM HYPOCHLORITE IS EFFECTIVE IN FIGHTING THE CORONA VIRUSThe Word Health Organization WHO have …