The Best Agricultural Machinery in Nigeria 2020 Reviews
Farming is perhaps one of the world's oldest and most essential trades, and up until now, it has continued on with the same tools. Modern engineering along with tractors and new machinery has shifted the agriculture industry to one of efficiency and mass production. Farming is no longer a small scale production, but reasonably one that takes place with massive machines over thousands of hectares. This efficiency improvement means that the world has access to any food it wants at any time. Let's take a look at 6 modern machines that dramatically increased the efficiency and production of agricultural operations across the globe.
Agricultural machinery is machinery used in farming or other agriculture. There are many types of such equipment, from hand tools and power tools to tractors and the countless kinds of farm implements that they tow or operate. Diverse arrays of equipment are used in both organic and non-organic farming.
Agricultural machinery is also used to improve the wide range of production practices employed by our farmers. It makes use of hybrid seeds of a selected variety of a single crop, technologically advanced equipment and lots of energy subsidies in the form of irrigation water, fertilizers and pesticides.
Uses And Importance of Agricultural Machinery
Accomplishing the right farming operations using the right agricultural machinery not only saves the time for a farmer but also helps to increase the fertility and efficiency of a farm.
Advantage of using the farm equipment is that they are capable of doing the maximum in minimum time, with reducing the cost of farming operations. Even at minimum speed, these farm machines have the capability to work twice as fast as human workers.
Additionally, these machines are also being upgraded and redesigned with the upcoming technologies to make them more eco-friendly. These upgrades make sure economic and environmental savings make them compatible to further use in the future.
Top 6 Best Agricultural Machinery in Nigeria Reviews
Farm Tractor RSM 2400 Rostselmash
This Farm Tractor RSM 2400 Rostselmash is one of the most important and easily recognizable technological components of modern agriculture and is basically a machine that provides machine power for performing agricultural tasks. It can be used to pull a variety of farm implements for plowing, planting, cultivating, fertilizing, and harvesting crops, and can also be used for hauling materials and personal transportation. In the provision of motive power, tractors were a replacement for human effort and that of draft animals, both of which are still used extensively in other parts of the world. Farm Tractor RSM 2400 Rostselmash is powered by Cummins engines, which have proven to be very robust, rugged and durable.
Our Farm Tractor RSM 2400 Rostselmash can optionally be fitted with a GPS/GLONASS automatic guidance system. The autopilot will improve tractor's productivity by 10 % by minimising gaps and overlaps during tillage operations and eliminate the risk of overly dense sowing when using seeding systems. The tractor is compatible with both an electric autosteer and a more precise steering system via a hydraulic valve. The closed center load sensing hydraulic system provides the required pressure for efficient operation of implements. When not loaded, the system operates in low pressure power-saving. The engine is equipped with a variable geometry turbocharger providing a 56 % increase in torque (up to 2,034 Nm), and thereby a faster response to load increase at low rpm. High engine efficiency provides superior fuel consumption performance (from 197 g/kWh).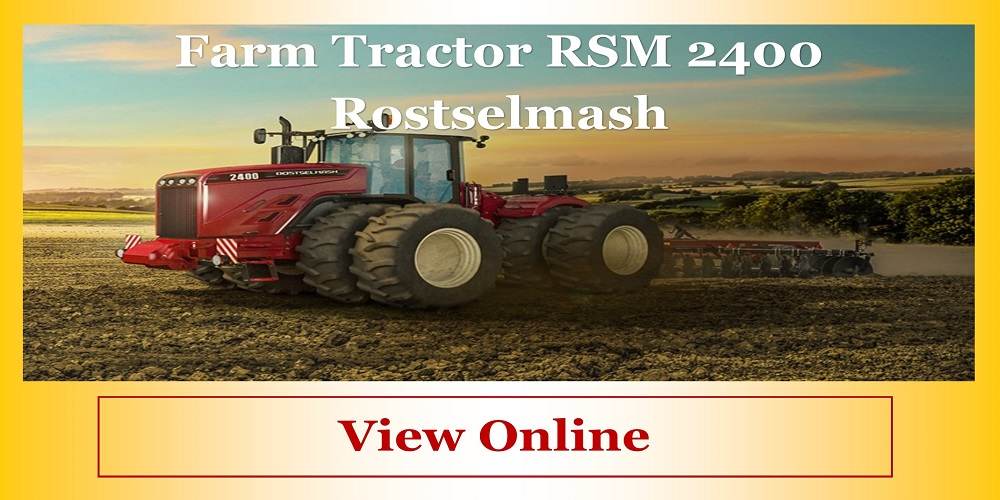 Technical Specifications of Farm Tractor RSM 2400 Rostselmash
Brand: Rostelmash
Colour: Red
Weight: 862
Engine Type: Cummins X12
Rated Hp: 405
Peak Hp: 439
Same Tractor Four Wheel Drive Tractor Explorer 90-4WD C.Woermann
This Same Tractor Four Wheel Drive Tractor Explorer 90-4WD C.Woermann is 1000 series liquid cooled engine, synchronized PTO, synchronized gearbox hydraulic clutch, heavy duty rear axle hydrostatic braking on all four wheels, hydrostatic steering with independent pump result of the extensive experience and significant competence of SAME in the world of media power tractors, the explorer offers an ideal balance between functionality and comfort and is an excellent choice for those looking for ideal performance with a limited investment.
In fact, the standard mechanical equipment - marked by simplicity, ease of maintenance and durability - make the explorer a tractor capable of ensuring high productivity and excellent comfort. Efficient in transport, suitable for foraging, the explorer stands out both in sowing as well as tillage, and is also perfect for smaller farms.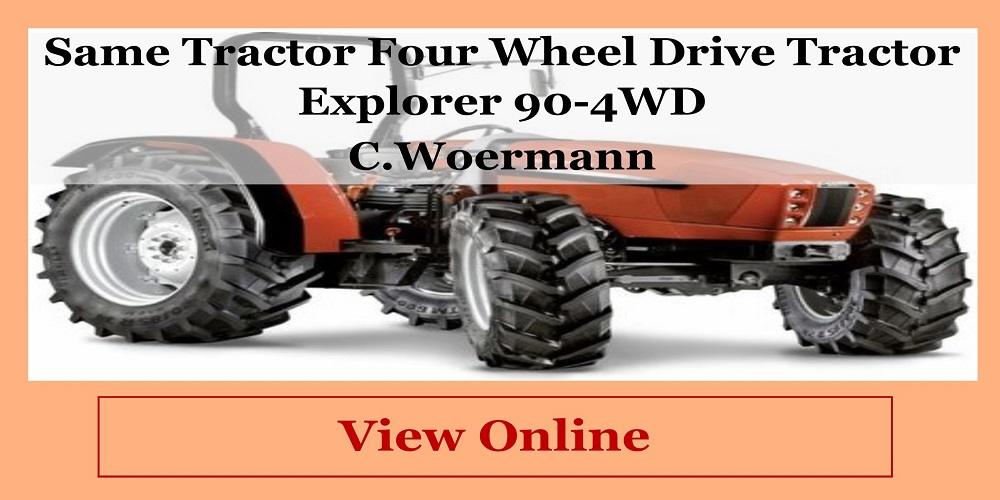 Technical Specifications of Same Tractor Four Wheel Drive Tractor Explorer 90-4WD C.Woermann
Model No.: Explorer 90 4WD
Wheelbase: 2360 mm
Front track Min/Max: 1600-2100 mm
Rear track Min/Max: 1600-2100 mm
Weight with frame safety frame: 3200 kg
Engine: Same 1000.4 WT - EII
Aspiration: Turbo
Max. homologated power (2000/25/CE): 87 HP / 64,6 kW
Nominal engine speed: 2350 rpm
Max torque/engine speed: 330 Nm /1400 rpm
Drive: 4 wheel drive
Agricultural Tractor K-424 Kirovets
This Agricultural Tractor K-424 Kirovets is basically a machine that provides machine power for performing agricultural tasks. It can be used to pull a variety of farm implements for plowing, planting, cultivating, fertilizing, and harvesting crops, and can also be used for hauling materials and personal transportation.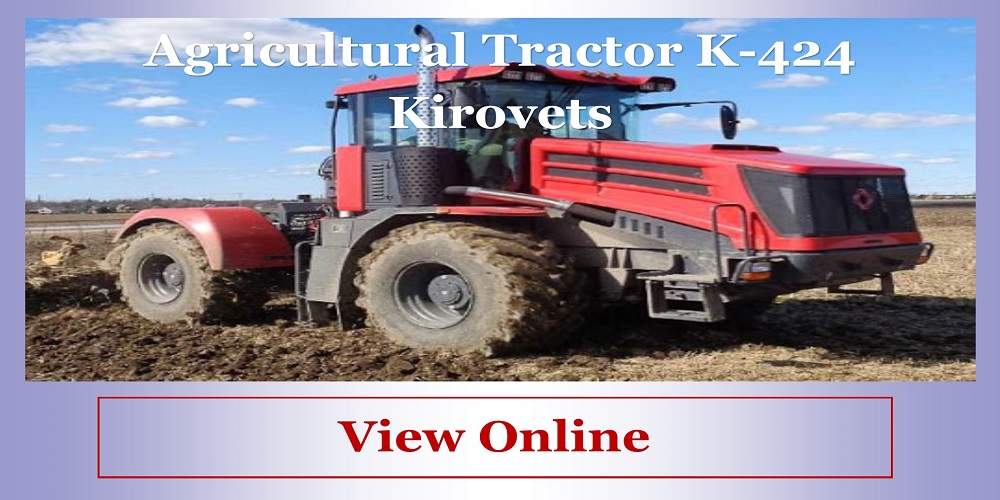 Features of Agricultural Tractor K-424 Kirovets
Operating weight 10 000 kg. (Without ext. Ballast)
Engine: Diesel, 240 hp, 2300 rev / min, 900 N • m.
Transmission: automatic with electronic communication with the engine.
Driving axles with locking differentials, front axle sprung.
Hydraulic brake, open disc.
Tires: 23,1R26 model F-37
Hydraulic working equipment: Pump Bosch tandem axial piston 100 cm3 40 cm3 + gear for steering, the maximum throughput of 210 l / min. Flow through one section of the control valve 95 l / min. Rear linkage 4 adjustable hydraulic line, free draining.
Rear attachment: category III with force and position control, load capacity of 6000 kg.
Multilift for aggregation with transport trailers.
The cab with integrated protective frame, all-metal, double, sealed, with heating, ventilation and air conditioning.
Dimensions. Length 6971 mm Width 2540 mm gauge 1930 mm, height of 3490 mm, the ride height of 500 mm, the rotation radius of 6200 mm.
Cultivator Cenio 3000 Special Mounted Amazone
The Cultivator Cenio 3000 Special Mounted Amazone is available in working widths of 3 m, 3.5 m and 4 m in rigid execution and as a special variant with shear bolt overload safety protection and as a super variant with compression spring overload safety protection. The cenio can be used with tractor horsepower from 105 and 190 HP. Despite its extremely robustly constructed frame, the cenio requires significantly lower lifting power requirement in comparison with other cultivators. This makes it ideal for soil tillage with small to medium tractors.
The cenio can be used in a range of working depths from 5 to 25 cm for shallow stubble cultivation, as well as for medium-deep incorporation or deep-loosening soil tillage. Thanks to a wide range of equipment options, the mulch cultivator can be adapted to a wide range of operational conditions.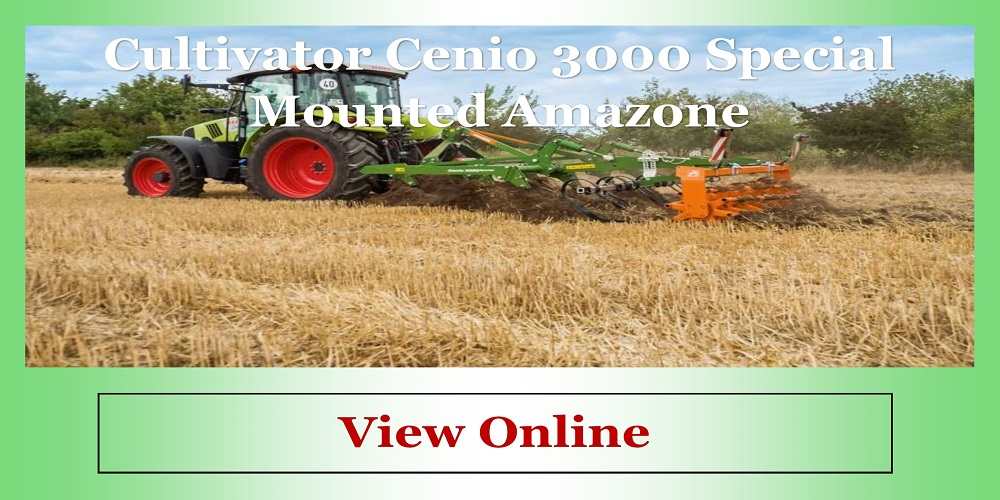 The cenio offers a high degree of flexibility, even when attaching the cultivator to the tractor. This suits end users that have two different categories of coupling points for both the top link and the lower links. As a result, the ideal angle of pull and sufficiently large lift height can always be achieved even with smaller tractors. In addition, the category 3 lower link pins can be swivelled either inwards or outwards in order to switch quickly between the standard dimensions of category 3 or 3N.
The working depth of the time element is adjusted mechanically on the machine or, alternatively, hydraulically from the tractor cab, whereby a clearly readable scale provides the driver with good orientation. With this option, it is possible to react very quickly and conveniently to different situations during work. For example, tramlines or headlands can be worked more deeply without having to leave the tractor.
Combine Harvester RSM 161 Rostelmash
This Combine Harvester RSM 161 Rostelmash is designed for harvesting all traditional grain crops — spiked cereals, bean cultures, oil plants, cereal and arable crops. Efficient combine with productivity of approximately 45 t/h makes it possible to process up to 2,000 ha per season.
The new luxury cab cabin features panoramic glazing, screen-wiper, and handy side mirrors. When it comes to space it is one of the largest in its class beating the nearest rivals by 30 % on average. It features ergonomic seats both for operator and assistant with improved working seat adjustments to the operator's individual requirements. The cabin is equipped with the highly efficient climate control system. There are storage spaces for personal items, tools and food. The combine is fit out with the last generation on-board information system Adviser III featuring 10-inch color touch-screen monitor and innovative user's interface with functions generally accessible at one, two at the most, menu levels.
The Power Stream of Combine Harvester RSM 161 Rostelmash ensures a higher performance by reducing loss and optimizing the material feeding. The use of this header in combination with the original cutting unit (driven by a planetary gear reducer) minimizes shattering losses and ensures consistent uniform feeding whatever harvesting conditions will be. The reel is hydraulically driven, featuring synchronizing automatic adjustment of the reel speed to match the ground speed.
For material cleaning, an OptiFlow double cascade cleaning system is used, which features a proprietary suspension for sieves with an area of 7.1 sq. m. A powerful optimized air flow, large drop height and precleaner tine grid significantly improve cleaning performance.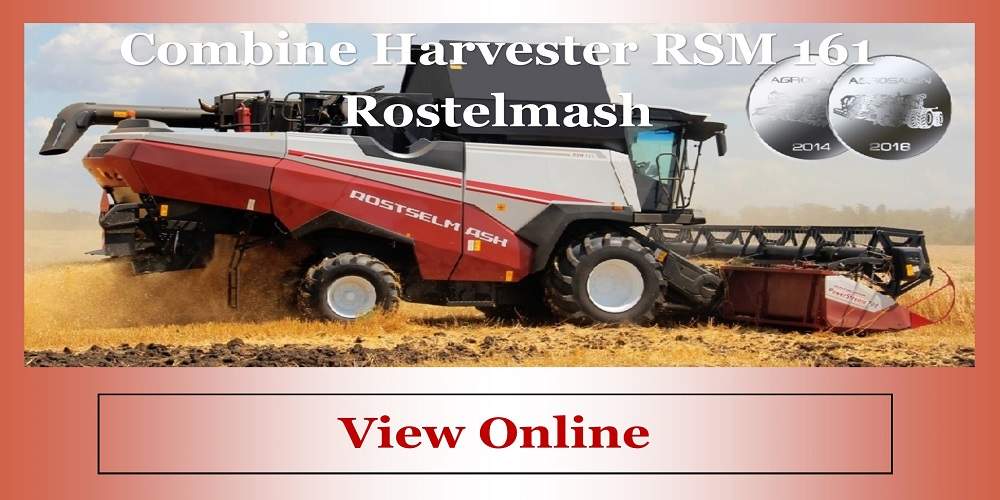 Technical Specifications of Combine Harvester RSM 161 Rostelmash
Brand: Rostelmash
Tank capacity: 10 500 Ltr
Tetra Processor threshing system Diameter: 800 mm
Unload rate: 115 L/sec
Weight: 4500 Kg
Rated Hp: 380
Engine Type: Cummins QSL 9
Combine capacity: 40 tons per hour
Grain Cleaning Complex ZAV-20 Voronezh Agromash
This Grain Cleaning Complex ZAV-20 Voronezh Agromash is a stationary structure for cleaning and sorting grain of various crops: wheat, barley, corn, sunflower, buckwheat, rye, oats, millet and others, the seeds of which do not require the use of special machines. The technical characteristics of the ZAV-20 are standardized, but may differ depending on the configuration of the complex and the building materials used during its installation.
Our Grain Cleaning Complex ZAV-20 Voronezh Agromash also allows cleaning of both food, seed and feed grains.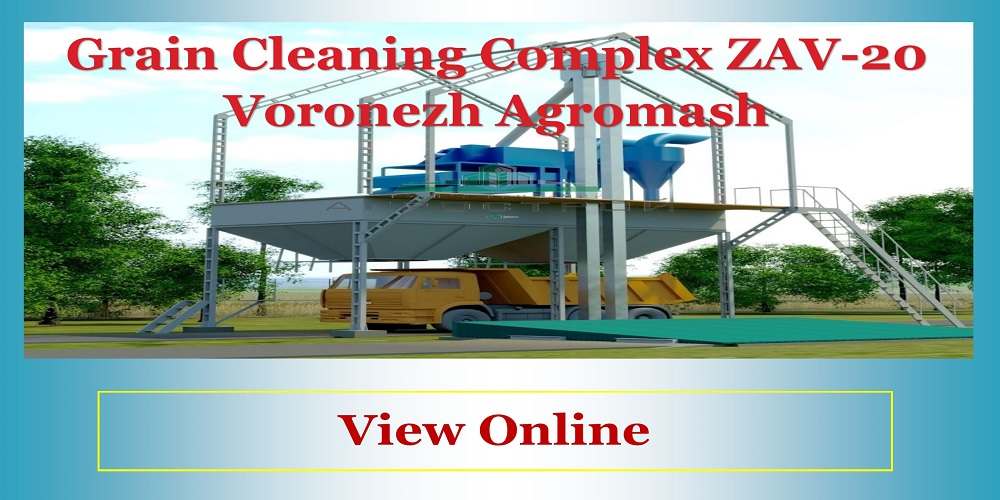 Technical Specifications of Grain Cleaning Complex ZAV-20 Voronezh Agromash
Wheat productivity (food grain, moisture up to 16%, weediness up to 20%): 20 t / h
Barley productivity: 16 t / h
Corn productivity: 10 t / h
Sunflower productivity: 6 t / h
Wheat productivity (seed): 7.5 t / h
Installed capacity: 33.2 kW
Intake pit capacity: 30 m 3
Clean grain hopper capacity: 32 m 3
Forage hopper capacity: 16 m 3
Bunker capacity for dead waste: 16 m 3
Construction length: 14050 mm
Width: 6600 mm
Height: 10400 mm
Types of Agricultural Machinery
A breakdown of the types of Agricultural machinery can be found below;
Mowers
Backhoe
Harrow
Cultivator
Rake
Tractor
Combine Harvester
Sprayers
Chain Saw
Brush cutters
Saw Mills
The factors that are driving the agricultural machinery market globally are population growth, urbanization and higher productivity demand with the shrinking agricultural land throughout the globe, which have led to the growth in demand for agricultural machinery. Technological advancement for developing more efficient products, while keeping in mind the country-specific requirements will provide opportunities for future growth of the sector.
Frequently Asked Questions about Agricultural Machinery
What are the examples of Farm Apparatus?
Some basic examples of farm equipment are hand cultivator, curry-comb, sod cutter, cord cutter, dibber, ditching gear, drag hoe/pitch fork, digging fork, hay knife, rake, tractors, cultivators, planter, shovel, spade, plough, harrow, tiller, and sickle and many others.
What is Rake used for in Agriculture?
Rake is a tool consisting of a toothed bar fixed transversely to a handle and is used to assemble leaves, hay, grass, and many others. From a horticulture farm area, while the same tool is used for weeding, levelling and doing away with useless grass in a garden area. Hay rakes are large mechanised variations of normal rakes that are utilized in farming practices of huge scale.
How to make the equipment last longer?
There are some simple tactics to apply in order to increase the life expectancy of the farm apparatus (particularly the battery operated machines). Two things that keep the equipment in just the right situation are handling the machinery correctly and following the manufacturers' recommendations for upkeep.
How do you know if a tractor is in good condition?
The following factors will help:
It should have good compression.
Low oil leaks.
Should not emit blue smoke.
The rear tire will have to have an inch of tread left.
No rattling sound and jerky movements.
Clunking sound of the engine signifies a problem.
The sediment bowl should not have inbuilt rust.
Conclusion
Agricultural machinery refers to machines used in doing various types of farm work. The use of machines in doing various work started during the industrialization period in the middle ages culminated in the contemporary time. Understandably, technology advanced and various types of machines for doing various work in the farm with automated technology was introduced. With these machines, a lot of work can be accomplished in just a few hours.
Agricultural machines have been designed for practically every stage of the agricultural process. They include machines for tilling the soil, planting seeds, irrigation, cultivating crops, protecting them from pests and weeds, harvesting, threshing grain, sorting and packaging the products and livestock feeding. Agricultural machinery can also be used to cultivate and harvest crops.
Searching for Where To Buy Agricultural Machinery In Nigeria?Contact GZ Industrial Supplies.
Recent events
How long does Inverter lastThe Lifespan of a battery depends on the type and how well you look …

How Power Inverter Generates Reactive PowerA power inverter or inverter is a power electronic device …

Table of Contents Introduction Why Silos are Important Advantages of using Steel Silos for Grain …