Here is the audio of this Article
The most advanced buildings and structures can be prone to damage due to certain environmental elements such as water logging and erosion, which reduces the value of the physical beauty of the buildings as well as the structural quality. For buildings constructed with cement, steel, and concrete,
construction chemicals used for waterproofing
is one most important aspects of the construction procedure that needs to be carried out to eradicate these damages caused by seepage of water to the interior building structures, thus helps reduce maintenance costs.
Table of Contents
What are construction chemicals?
What is waterproofing?
Why do we need waterproofing chemical?
Types of waterproofing
Steps involved in water proofing
Advantages and Disadvantages of water proofing
Frequently asked questions
Conclusion
What are Construction Chemicals ?
Construction chemicals have always been playing important roles in virtually all sorts of construction projects, be it industrial projects, residential building projects, commercial building projects and so on. These chemicals are often used in various elements of projects in order to achieve various important qualities such as workability, durability etc. Construction chemicals exist in many varieties from a large number of manufacturers worldwide.
Construction chemicals are chemical formulations used with masonry materials, cement, concrete or other construction materials at the time of construction to hold the construction materials together.
What is waterproofing?
Waterproofing is a process aimed at protecting a building or structure by making it impermeable to water under several conditions. The building becomes impervious to the ingress of water. This process hinders water from penetrating inside buildings, thereby reducing humidity that water penetration can cause.
Why do we need waterproofing Chemicals?
Construction chemicals such as waterproofing chemicals are useful in preventing water from penetrating your house. Waterproofing is very important as it helps keep your house dry. It helps reduce humidity inside the house and thereby protects things inside your house from damage caused due to humidity or water exposure.
Deciding on the right waterproofing will solely depend on the nature of the structure you are embarking on and the work you are doing. It is advisable to indulge experts that are professionals and experienced in their line of work. These specialists not only aim to select the right method to use or correct waterproofing chemicals for the job but also ensure safety while working.
Types of waterproofing
Various types of waterproofing commonly used in construction are solely dependent on the nature of the area involved and the activities being carried out.
Bituminous Water-Proofing
Polyurethane Liquid Membrane
Cementitious Waterproofing
Liquid Waterproofing Membrane
1. Bitumen waterproofing
Bitumen is a hydrocarbon that can occur naturally or be refined as one of the products from the fractional distillation of petroleum. It is a mixed substance of highly viscous organic black, sticky, and waterproof organic liquids.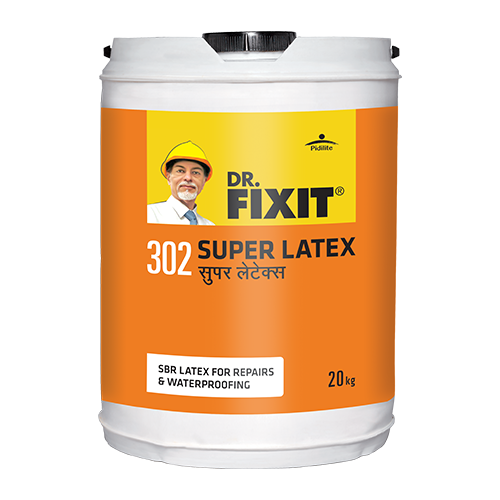 Buy online Dr. Fixit 302 Super Latex 20Kg
Bitumen waterproofing is basically used to protect residential areas and commercial structures; also used in some roof constructions, as seen in roll roofing and roof felt products.
Areas of Application
As a bond coat - Plaster to plaster, concrete-to-concrete, plaster to concrete masonry to stone work and for plastering over brick masonry. Bonding coat & mortar for tiles & panels, underlays for special finishes such as top rendering coat for chemical resistant floors.
As waterproofing – Waterproofing of small roof terraces, sunken portions of toilet & bathrooms, chajjas & liftpits, balconies & stare cases. waterproofing of liquid & effluent tanks, car deck and walk ways.
As crack repair - Repairs of plaster cracks more than 5 mm & in gaps developed between masonry and RCC members.
As rebar coating – Coating for prevention of corrosion over rebars.
For Cladding – Fixing or refixing of slip bricks, tiles, stones & marble bedding.
As external rendering – Weatherproof & frost resistant render, high wear & erosion resistant render.As bonding slurry coat for pin hole treatment on concrete surface & as repair mortar for overhead applications.
2. Polyurethane Liquid Membrane
Polyurethane is widely known because it is quite easy to apply and requires less technical skills and observation, unlike the others. It comprises two basic components: the cyanide, which makes for the reactor component, and, polyol, which acts as the base. The mixture of these two in a particular ratio produces the liquid coating used in the application. They are used for some post-construction because their application is fast and gives a consistent finish with good resistance to wearing and high durability.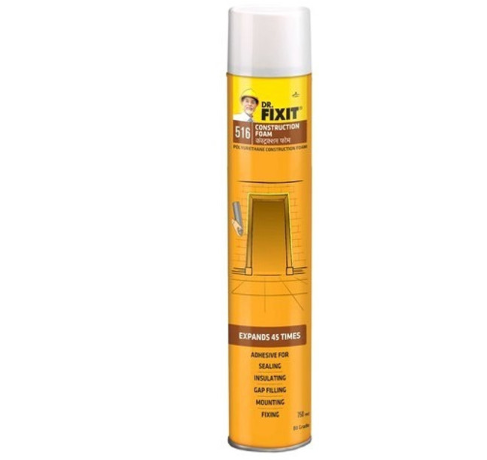 Buy online Dr. Fixit Construction Foam
Areas of Application:
Defective concrete – (crack & honeycomb).
Deep basements, rafts, lift pits
Construction joints
Drinking water tanks & reservoirs
Waste water/ Effluent tanks
Sewers, manholes, utility boxes, etc
Dams & canals
Tunnels
Brick / stone masonry
Pipe intrusions
Soil stabilization
3. Cementitious Waterproofing
The cementitious waterproofing product is one of the easiest materials to use in waterproofing applications because they are quite easy to mix with a long hand brush, also commonly sourced by suppliers in the market. While using this type of waterproofing, it is recommended to introduce an acrylic additive to blend with the product to get a good bonding, more solid, and long-lasting coating.
They can be used in marine cargo ports/docks, bridges, tunnels, toilets, railways/subways etc. Cement cannot stretch to any length, which is one of its disadvantages. It can withstand any movement of joints or cracks and handle water penetration perfectly.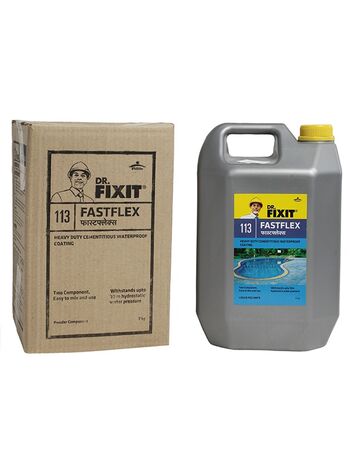 Buy online Dr. Fixit 113 Fastflex
Typical Applications of Dr. Fixit 113 Fastflex
Any concrete, cement or masonry surface that are subject to moisture ingress.
Swimming pools, water features and water tanks.
Bathrooms, toilets, balconies, planters etc.
4. Liquid Waterproofing
This waterproofing product is often used in the roof coating process in sealing off the roof from rain drops for all roofs, such as pitched, flat or domed roofs. It is applied in constructions before painting on the walls or placing tiles. Here a special monolithic, liquid base fully bonded coating is used, made up of artificial water-based resin or polymers, adhesives, emulsion, and sealants. Liquid waterproofing can be applied on asphalt, bitumen, and concrete. After applied, it dries up to form an elastic rubber-like waterproof membrane that can stretch and relax without any fault. Different layers of coating consist in the membrane, which carries out different functions.
They can also be used in areas like water reservoirs, swimming pools, and machines to seal joint corners and gaps to prevent water from entering delicate areas and thereby disrupting operations.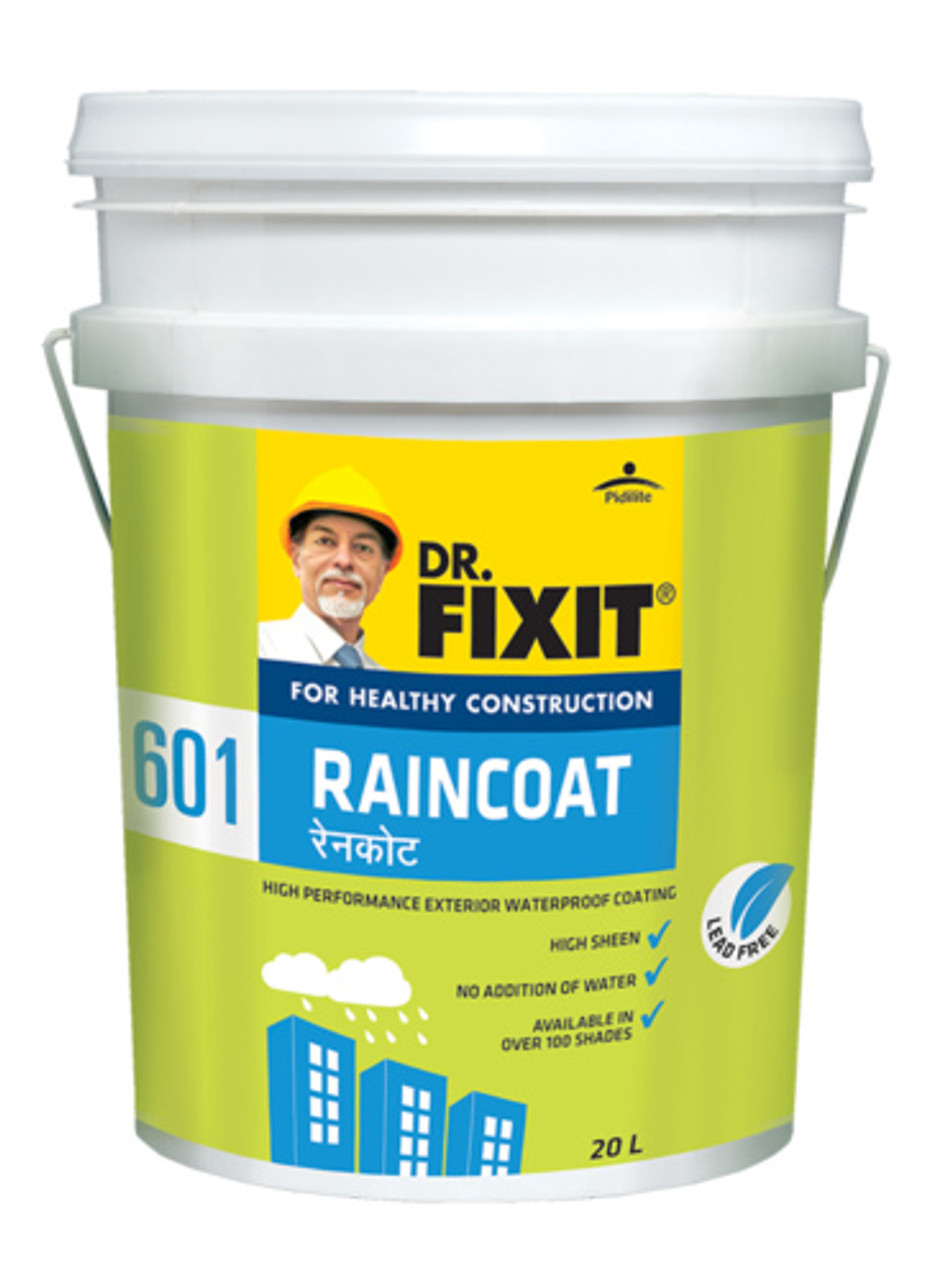 Buy online Dr Fixit Raincoat 601 20L
Features of Dr Fixit Raincoat 601 20L
Balanced composition
Hygienically packed
Long shelf life
Steps Involved in Waterproofing:
Ground Preparation: This is the first and one of the most important steps to be carried out as it plays a critical role in the waterproofing membrane bonding process. Before anything is applied on any area or surface meant for a job, the floor must be thoroughly clean and cleared, freeing it from dirt, tiny objects or materials, oil, and debris.
Primary Coat Application: The next step is to apply the primary coat depending on the type and choice of waterproof chemical used. For bitumen, water-based or solvent-based is rather recommended.
Unrolling the Membrane Sheets: This requires careful examination to properly adjust, place and unroll the sheets when need be in the right position on the surface structure.
Heating the Membranes: Using a heat gun, this is carried out to remove linings that can be seen underneath the surface of the membrane. With the basic concrete surface, carrying out this heating process prepares the membrane for proper bonding.
Pressing the Membrane: Press the membrane resolutely, ensuring proper bonding with the surface of the concrete. Further care should be taken for the overlaps, edges, and angles to ensure proper bonding.
Advantages of waterproofing
Waterproofing can be carried out indoors and outdoors based on the owner's request as well as the intensity of damage caused by water. It can also be carried out by self (DIYs) if it will cost you more to pay professionals on the job.
The biggest advantage of waterproofing is that it increases the value of your building structure by giving the following benefits;
Waterproofing methods are quite easy to apply.
With waterproofing, too much moisture absorbed into your walls can be prevented, reducing mold growth that can pose some threats to one's health.
Using waterproofing chemicals can fully maintain the structural integrity of a building. It stops the damages that arise as a result of seepage.
Rusting and decaying wood in the house can be avoided using waterproofing methods.
Waterproofing strengthens the foundation of buildings, keeping them strong and long-lasting.
It reduces water absorption.
Cracks that are easily seen are prevented.
Using waterproofing in your building reduces the cost of maintenance and repairs.
It brings about a clean, clear, and workable healthy environment.
It gives its owner full protection assurance on the quality of its building.
Buy online Dr. Fixit Pidiproof 101 LW + Waterproofing Chemical Plasticizer
Disadvantages of Waterproofing
As a result of solvent evaporation, bitumen products soften up during the heat period, which reduces their life limit.
The polyurethane protective coating shouldn't be very versatile.
Polyurethane protective coating hinders the normal way concrete relaxes. it restricts the pot life and allows for water logging below the floor coating.
Most times, cement waterproofing is incapable of maintaining cracks, leading to more damage.
Frequently Asked Questions
What is the best waterproofing product?
The most suitable waterproofing product solely depends on the nature of the job, what the owner requires, and whether it is for repairs and maintenance of existing buildings. It is always advisable to seek professional experts with knowledge of the work.
What materials are used for waterproofing?
Different methods exist in the process of waterproofing, so this makes for different types of waterproofing chemical compounds which serve usage in various areas in which they are used.
What is the best time to do waterproofing?
Depending on the type of waterproofing material, the summer period presents the best time for waterproofing; this is because waterproofing membranes usually take days or even weeks to dry.
Conclusion
Waterproofing is of great importance based on the durability and integrity of the building in as much as it is seen as a minor part of a building structure. It requires skilled, well-trained experts with knowledge and experience in all aspects of the workforce to bring about a well finished operation. Choosing the right and effective construction chemical for waterproofing is key, however, it is required to acquire all necessary information on the type of waterproofing chemicals and the methods that best fit your project.
Contact us at Gz supplies for inquiries and information.
Recent events
Epocoat road marking (Epocoat 410) is a one-component self-drying paint with various color pigments, …

Hydraulic power control systems such as pressure test benches are essential to the mechanical system …

Here is the audio of this Article The most advanced buildings and structures can be …