See Why Epoxy Flooring is A Superior Choice to The Most Popular Home Floor Types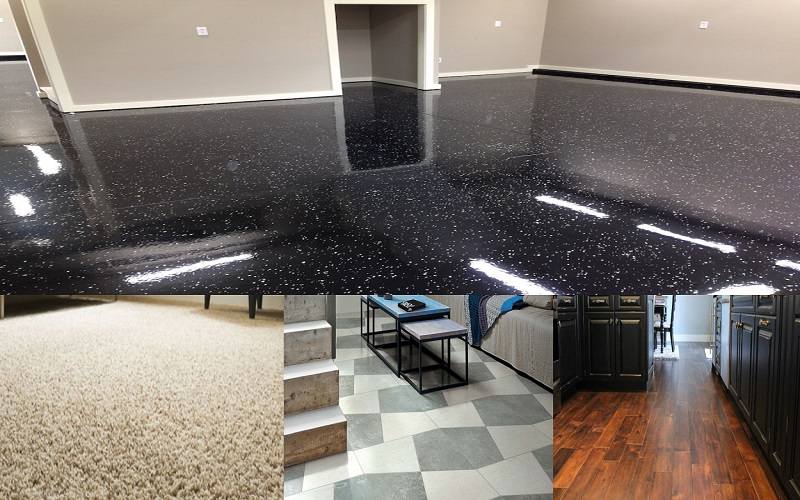 Epoxy flooring may seem like a type of finish only found in malls or commercial businesses, but in recent years, residential Epoxy floors have become more and more popular in homes. Its beautiful shiny finish and durable coating makes it an ideal asset to any household, than other types of flooring. There are many benefits of having Epoxy floors in your home's basement, bathroom or kitchen. We can promise that Epoxy flooring is a better option for your home instead of carpet, tile, hardwood, or any other type of flooring you may have already.
Comparing Epoxy Floor to Other Types of Floors
Epoxy floors are usually found in basements and garages. The experts of GZ Industrial Supplies know there are many more opportunities for improving the floors in your homes by applying Epoxy floor coatings.
See how Epoxy floor compares to carpet, tile and hardwood.
Carpet – Carpet and padding can be applied over many existing floor types to create a warmed, softer feel to the room. Carpet requires regular vacuuming and can easily be ruined by liquids and stains. It is also recommended that carpet be replaced every five to ten years. These floors are most often found in bedrooms, nurseries, and living rooms.
Tile – Tile is available in many materials like ceramic or stone, offering different colors and styles when installed. These materials can last anywhere from a few years to decades. However, some materials are more expensive than others and will cost more to cut and install. Tiles can also crack from the force of a dropped object or heavy furniture. The grout lining along the edges of each tile have to be carefully maintained to prevent stains. Tile is often used in kitchens and bathrooms.
Hardwood – Hardwood floors are known for their classic appearance. The grain, stain, and color of the wood add some personalization to the finished floor. A properly finished floor will last for decades. However, wood floors are known to be expensive to install. Depending on location, the wear and tear on the floor may result in additional refinishing. These floors can be easily damaged by water and stains. Hardwood is often used for living rooms, dens or home offices, and formal entryways.
Epoxy floor coatings over concrete give your home long-lasting durability. Unlike carpet and hardwood, there's no need to worry about water damage. Epoxy is resistant to chips and cracks, making it a superior choice to tile as well.
A Few More Benefits of Epoxy Flooring in Your Home
1.) It is durable. Epoxy finish is made with a resin which is very resistant to water, chemicals, and general wear-and-tear. It is often applied on concrete floors and is capable of supporting heavy loads like cars or machinery. You won't have to worry about a dropped item leaving a dent or crack behind like you would with tile or hardwood.
2.) It is easy to clean. The smooth, glassy finish of Epoxy makes it very easy to clean up any substance off the floor. Household liquids often stain carpets and hardwood floors, but with Epoxy, liquid stains are easily wiped out without any hassle. Epoxy floors are also dust and dirt resistant, making it a better option than tile, which retain dust and dirt inside the cracks and grout lines.
3.) It is non-toxic. The tough and versatile Epoxy finish is made of a long-lasting resin coating, which does not corrode or dissolve even after years of use. Unlike other types of flooring, Epoxy also doesn't require harsh chemicals to clean it, which could potentially harm the environment.
4.) It is beautiful. It is an unfortunately common misconception that concrete can only be boring gray. Decorative concrete and Epoxy coatings allow you to select from many patterns, colors, and styles.
Now you can see why epoxy flooring is a superior choice to the most popular home floor types. Contact GZ Industrial Supplies Limited for technical advice and support for your epoxy floor coating options. We are ready to offer assistance from the beginning of the design phase and all through the installation process.
Recent events
Can Epoxy Floor Be RemovedThe epoxy surface is not suitable for all types of industry. It is common …

Can Epoxy Flooring Be Applied OutdoorEpoxy flooring has usually been depicted and portrayed as being …

How power Inverters in Nigeria WorkTo clarify what an inverter is, it essential for people to apprec …