Power Tools play a significant role in the progress of mankind. Since ancient times, tools have been used to perform a variety of tasks. There is plenty of evidence that early humans used a variety of tools to create physical objects. As the centuries rolled by, significant progress has been made as far as the quality of tools is concerned. In modern times, there are many advanced tools available for professional and home use.
Modern tools are mainly divided into 2 categories- hand tools and power tools. Hand tools have a simpler design and are easy-to-use. Some of the main types of hand tools include screwdrivers, wrenches, ring spanners, drive sockets etc. Power tools, on the other hand, are more complex and are used to perform advanced tasks. A power tool is a tool that is actuated by an additional power source and mechanism other than the solely manual labor used with hand tools. The most common types of power tools use electric motors. Internal combustion engines compressed air and compressed fluids are also commonly used. These tools use electricity, some cordless or battery powered are used to function. Angle grinders, rotary drills and orbital sanders and Impact drills are some of the common types of power tools.
Power tools are used in industry, in construction, in the garden, for housework tasks such as cooking, cleaning, and around the house for purposes of driving (fasteners), drilling, cutting, shaping, sanding, grinding, routing, polishing, painting, heating and more. These power tools also enable you to perform heavy-duty tasks with high efficiency and precision. They are also immensely useful for students in completing their projects and the average person wishing to experiment on their creativity at home needs a lot of DIY and power tools for support.
This article explores 10 most important power tools in use in Nigeria this 2023. Our experts selection is based primarily on utility of use, price range that is pocket friendly and brands having global popularity for top quality.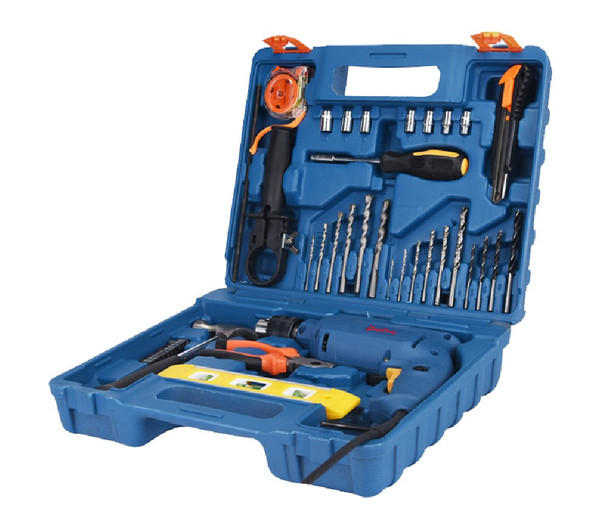 Buy Online... DongCheng Electrical Impact Drill (Tool Kit) DZJ 04-13
The Different Types of Power Tools used in Nigeria
This article will explore from the 10 most important power tools used by Nigerians in getting their job done to those that are mostly needed by most tradesmen from Woodworkers, welders, plumbers, mechanics and even electricians. We will explore brands known and unknown. People are more interested in popular power tools brand in Nigeria, but are they really the best? Mostly the answer is yes. We have also checked and confirmed new top quality products from China such as DongCheng Professional Power tool and Ingco power tools and they are also a great brand to have. Our expert team tests and explores these theories and they are mostly right.

Power Tools include:
Angle Grinder

Belt Sander

Biscuit Joiner

Chainsaw

Circular Saw

Heat Gun

Impact Driver

Impact Wrench

Jigsaw

Lawn Mower

Miter Saw

Nail Gun

Pressure Washer

Orbital Sander

Reciprocating Saw

Rotary Saw

Sabre Saw

Table Saw

Vacuum Cleaner

Wall Chaser

Router
10 Most Important Power Tools in Use in Nigeria 2023
1. Bosch Angle Grinder GWS 2000 Professional



This Bosch Angle Grinder GWS 2000 Professional is a powerful and reliable power tool, designed for construction and industrial related operations.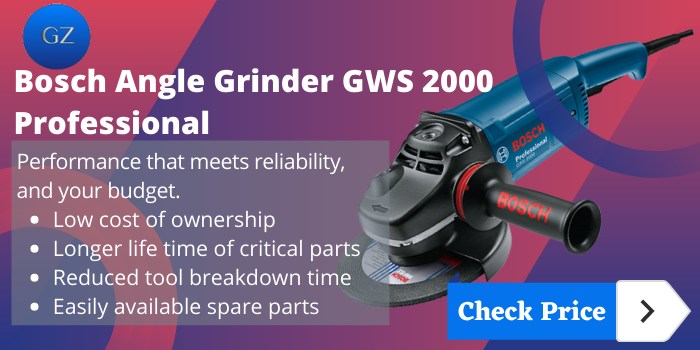 Technical Specification of Bosch Angle Grinder GWS 2000 Professional
Rated input power: 2,000 W

No-load speed: 8,500 rpm

Disc diameter: 180 mm

Power Output: 1,280 W

Grinding spindle thread M 14

Main Handle: Barrel

Rubber backing pad, diameter: 180 mm

Weight: 5 kg

Switch: Lockable Switch
PROS
Low cost of ownership

Longer life time of critical parts

Reduced tool breakdown time

Easily available spare parts
CONS
If there are flammable materials around the working environment, they may catch fire from the flying sparks creating a potential fire hazard.
2. DongCheng Cordless Brushless Driver Drill DCJZ23-10 (TYPE E/EK/Z)1
The DongCheng cordless Brushless driver drill DCJZ23-10 (Type E/EK/Z) is efficient for light weight drilling operations for materials such as wood, plastics. It is designed with an ergonomic driver bit and plastic case packing with a long lasting battery all at a very affordable price.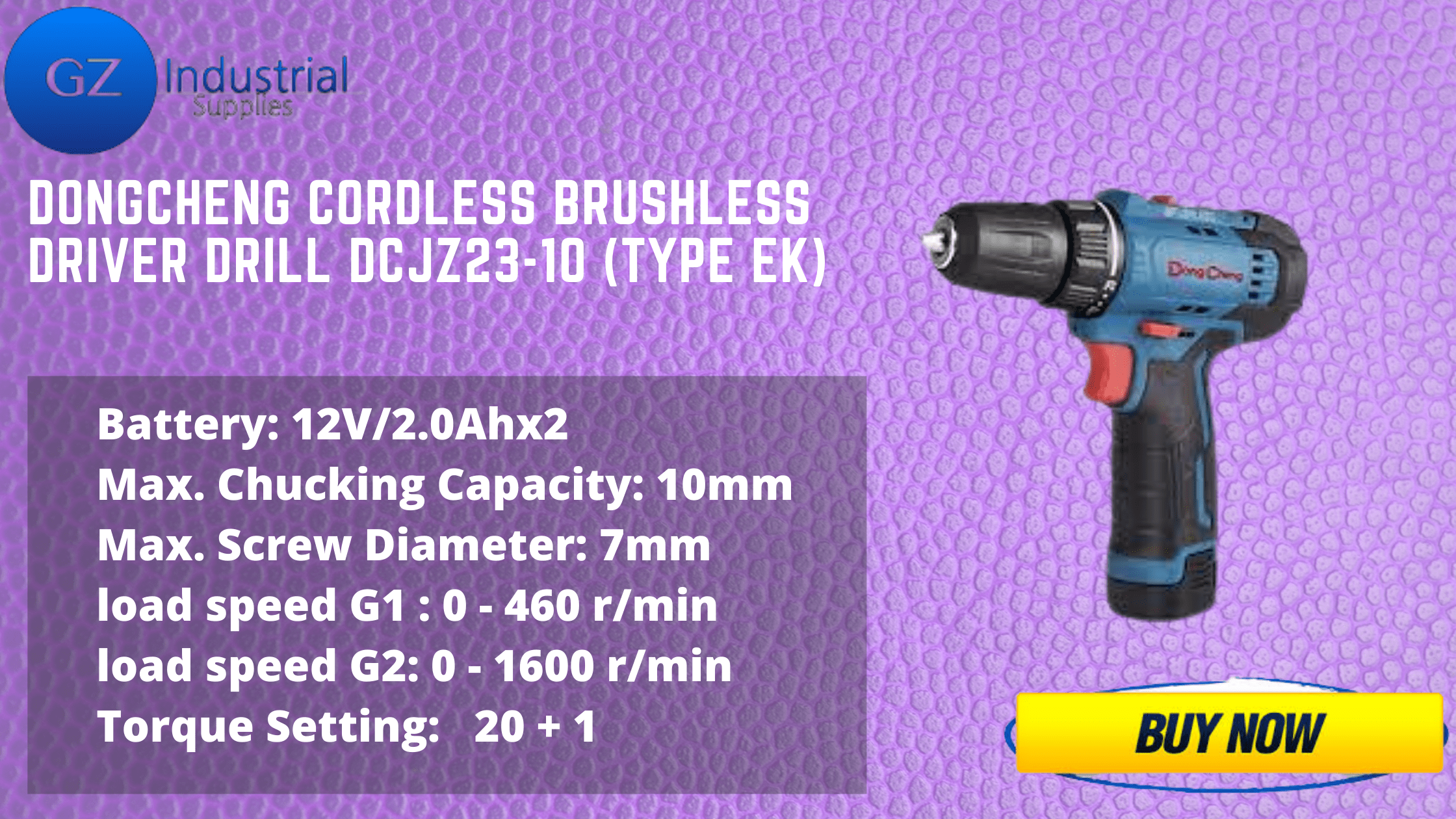 Technical Specifications:
Battery: 12V/2.0Ahx2
Max. Chucking Capacity: 10mm
Max. Screw Diameter: 7mm
PROS
Has integrated work light with LED battery power indicator

Has Auto-lock keyless chuck

Comes with spindle lock function
CONS
Less Powerful Compared to Corded Drills

Charging Time Affects Productivity
3. Bosch Mitre SawGCM 10 MX Professional
Bosch Mitre Saw GCM 10 MX Professional is engineered for precise Aluminium Cutting, it has high cutting efficiency and cutting precision and high performance of frequent Aluminum cutting.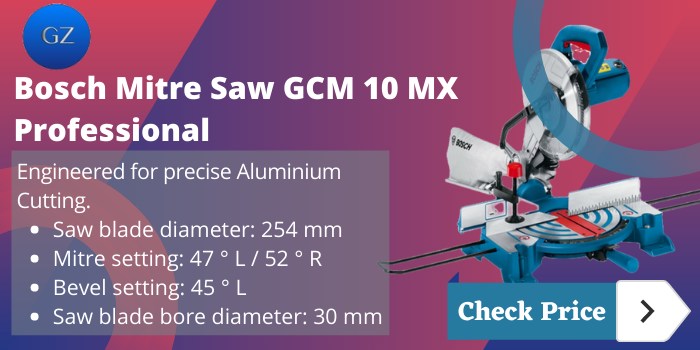 Technical Data Specification:
Cutting capacity, 0°: 89 mm
Cutting capacity, 45° incline: 67 mm
No-load speed: 4.800 rpm
Saw blade diameter: 255 mm
Saw blade bore diameter 25.4 mm
Weight: 14.1 kg
Rated input power: 1,700 W
PROS
Increases productivity, easy to make precise cuts at any degree and very portable.

High cutting efficiency and cutting precision

High performance of frequent aluminium cutting
CONS
Slower due to its heavy blade
4. Bosch Professional Stirring Mechanism(Agitator) GRW 12 E
The Bosch Professional Stirring Mechanism(Agitator) GRW 12 E are very useful when you need to mix components and get a homogeneous liquid mixture. The main function of a stirrer is to agitate the liquid for speeding up the reactions or improving mixtures.
Our Bosch Professional Stirring Mechanism(Agitator) GRW 12 E is a very useful and convenient method of stirring liquids, the compact tool for mixing various materials of up to 50 kg.
Features of Bosch Professional Stirring Mechanism(Agitator) GRW 12 E
1-speed stirrer for mixing thin and viscous materials

Powerful 1200 watt motor

Ergonomic frame handle

For stirrer baskets up to 140 mm in diameter

Electronic switch for continuously variable speed adjustment

For heavy-duty, continuous use
PROS
Good for mixing thin and viscous materials

Easier to clean
CONS
Cannot be used at very high temperatures, as the protective coating will degrade
5. Bosch Hand-Held Circular Saw GKS 235 Professional
This Bosch Hand-Held Circular Saw GKS 235 Professional is a power-saw using a toothed or abrasive disc or blade to cut different materials using a rotary motion spinning around an arbor.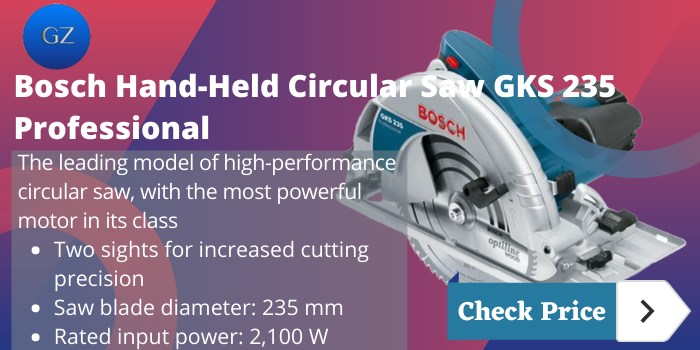 Our Bosch Hand-Held Circular Saw GKS 235 Professional is a tool for cutting many materials such as wood, masonry, plastic, or metal and may be hand-held or mounted to a machine.
PROS
High-performance circular saw, with the most powerful motor in its class.

Two sights for increased cutting precision

Base can be tilted up to 48°; sturdy, steel base plate with dual attachment.

Optimised chip removal system
CONS
If material is not supported properly, the blade can bind.

Not for use in tight quarters.

Blades can snap and become projectiles if not cared for properly.

Creates high amounts of sawdust/debris, need to be used in a well ventilated area
6. DongCheng Cordless Reciprocating Saw 28mm, 18V/4AHx2 DCJF28EK
DongCheng Cordless Reciprocating Saw 28mm, 18V/4AHx2 DCJF28EK is empowered by Powerful 18V Class Technology. Unique handle with ergonomic shape makes on-the-go cutting and controlled applications easy.This is a type of machine-powered saw in which the cutting action is achieved through a push-and-pull ("reciprocating") motion of the blade.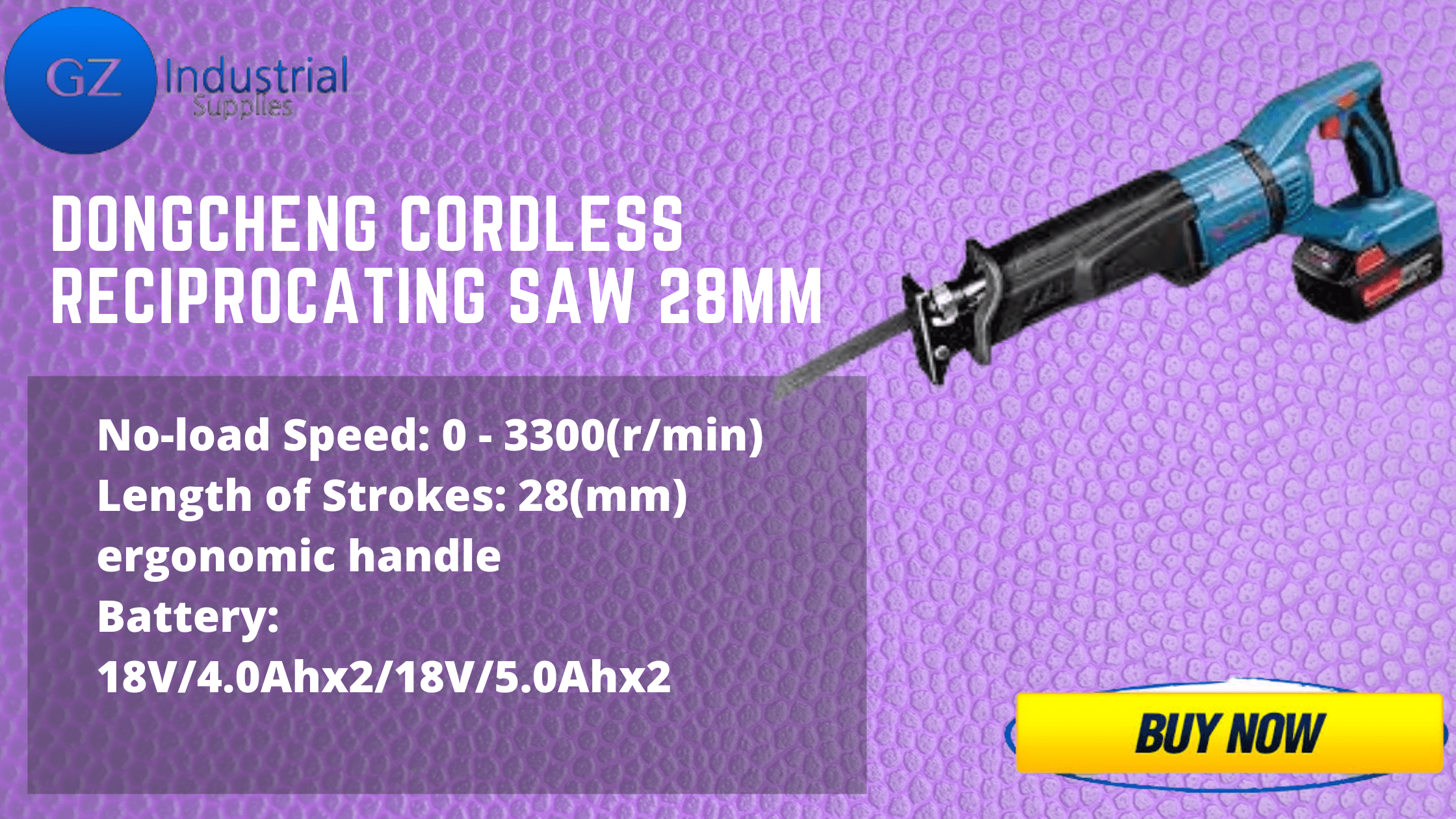 DongCheng Cordless Reciprocating Saw 28mm, 18V/4AHx2 DCJF28EK can make cuts so great it'll feel like a little piece of heaven in your hands. But choosing the right one is essential from the perspective of comfort and handling - both of which must be perfect if you are to make consistent cuts with precision every time. A key factor that determines how comfortable any cordless reciprocating saw actually feels in your hand is how its handle feels during use.
PROS
Convenient tool with the fastest saw blade changes

Highest power to weight ratio

Fastest cutting in the widest variety of materials – optimised orbital action and SPM for most materials
CONS
Not powerful enough for intense wood-cutting jobs

May be too heavy for some users
7. Demolition Breaker 1700W PDB17018 INGCO
This Demolition Breaker 1700W PDB17018 INGCO is a Chisel-locking system and highly advanced. The SDS-MAX chuck system improves precision of this 1700w demolition breaker/demolition hammer. Strong rotation and hammering of this demolition hammer drill machine allows the professional to work three to four times faster than other conventional methods while working with concrete or other masonry material. With 1400 bmp of Impact rate and 1700w of input power this rcc breaker machine price is a really budget and affordable deal.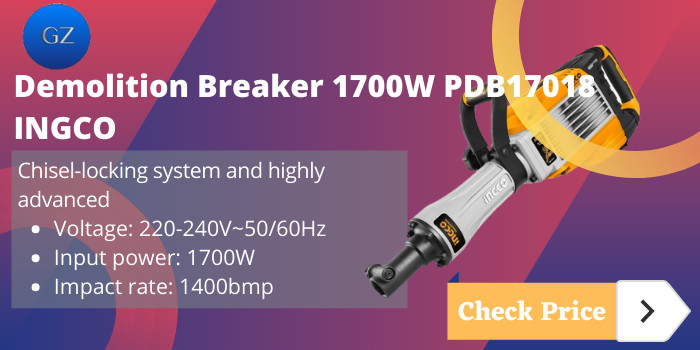 Buy Demolition Breaker 1700W PDB17018 INGCO i.e electronic concrete breaker now at the most affordable concrete breaker price and get very low shipping and doorstep delivery across Nigeria.
PROS
It comes with an auxiliary handle that allows you to easily maneuver it

This is one of the most affordable demolition breakers available

It produces less vibration than other electric demolition breakers
CONS
Quite heavy and tiring to use
8. High Pressure Washer 1400W HPWR14008 INGCO
This High Pressure Washer 1400W HPWR14008 INGCO is perfect for a variety of cleaning tasks, home, car, building, patio, fence, lawn, driveway, boat, truck, sidewalk, sheds, siding and more.
The corded electric pressure washer is charged simply with a 5m power cord, you only need to put it into a power socket, no additional connector is required. Enjoy your time with this easy-to-use washer.
Features of High Pressure Washer 1400W HPWR14008 INGCO
Design: pure copper motor, high-performance aluminum pump, waterproof body, automatic stop, inlet filter. suitable for cleaning your car, driveway, fence, house, floor, etc
Multi-function: Two-mode spray gun, rotatable barrel, to meet a variety of needs
Convenient: convenient storage, accessories can be neatly stored on the machine; 5 m power cord, 5 m high-pressure hose, wide operating range
Included components: 1 high pressure washer, 1 set of spray gun, 5m high pressure hose, instruction manual, packed in color box. Color box size: 26 x 23.5 x 48cm, 5.5kg.
PROS
They can clean almost any exterior surface

Very User-Friendly

Makes Your Cleaning Job Much Faster
CONS
You could get injured if you do not use it properly
9. Rotary Hammer heavy Duty Drill Machine 20mm 1050W INGCO RH10508
Our Rotary Hammer heavy Duty Drill Machine 20mm 1050W INGCO RH10508 is a power tool that can perform heavy-duty tasks such as drilling and chiseling hard materials.
This Rotary Hammer heavy Duty Drill Machine 20mm 1050W INGCO RH10508 delivers a much more powerful hammer blow, making it possible to drill bigger holes much faster. can be used for doweling and drilling through-holes in concrete and masonry walls. The hammering action helps break up the masonry so that it can be removed by the drill bit's flutes. Our Rotary Hammer heavy Duty Drill Machine 20mm 1050W INGCO RH10508 is 100% ORIGINAL!
PROS
360-degree auxiliary handle gives you better wrist control and flexibility

Hammer has an integral clutch that helps reduce torque reaction
CONS
You can't use it to drill or chisel wood, you need a less powerful tool

Consumes a lot of power, especially when used for long periods
10. Gasoline Lawn Mower 4.8hp INGCO GLM196201
This Gasoline Lawn Mower 4.8hp INGCO GLM196201 is a machine utilizing one or more revolving blades to cut a grass surface to an even height. The height of the cut grass may be fixed by the design of the mower, but generally is adjustable by the operator, typically by a single master lever, or by a lever or nut and bolt on each of the machine's wheels.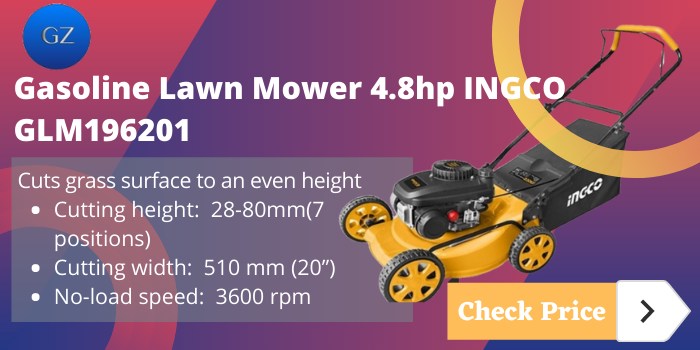 The blades may be powered by manual force, with wheels mechanically connected to the cutting blades so that when the mower is pushed forward, the blades spin, or the machine may have a battery-powered or plug-in electric motor.
INGCO tools are devoted to making professional quality tools affordable. INGCO believes that top quality refers to not only function, usability and appearance, but also efficiency, performance and maintainability. The whole INGCO team pays great attention to every detail to make INGCO tools stand on the top of the world. All the INGCO team are based in China to support global marketing. We focus on finding partners overseas instead of setting up our own sales team. Rather than making much advertisement, we prefer to save all extra expense to maximize the benefits to partners. INGCO—Make The World In Your Hands.
PROS
They can cut through tougher grass with ease

There's no cord to limit mobility

They have the ability to mow larger areas without waiting for a battery to charge

They're more durable than most electric mowers
CONS
They're louder than electric mowers

They require regular engine maintenance

They have pull-start cords that can make it difficult to turn them on

Creates a significant amount of pollution due to the combustion in the engine
Importance Of Power Tools
Power tools are capable of performing many complex tasks that can't be performed with hand tools.

They make it easier for the workers to complete several difficult tasks in less time and with lesser effort.

These tools can go a long way when it comes to increasing the efficiency of workers by simplifying their work.

Power tools are capable of completing several construction tasks cleanly and without causing any major disruption.
Frequently Asked Questions About Power Tools
1.When and how should you inspect Power Tools?
Inspect tools for any damage prior to each use.

Check the handle and body casing of the tool for cracks or other damage.

If the tool has auxiliary or double handles, check to see that they installed securely.

Inspect cords for defects: check the power cord for cracking, fraying, and other signs of wear or faults in the cord insulation.

Check for damaged switches and ones with faulty trigger locks.

Inspect the plug for cracks and for missing, loose or faulty prongs.
2. What Should You Do While Using Power Tools?
Wear or use personal protective equipment (PPE) or clothing that is appropriate for the work you are doing; this may include items such as safety glasses or goggles, or a face shield (with safety glasses or goggles), hearing protection, dust mask, gloves, safety boots or shoes, or rubber boots.

Switch off the tools before connecting them to a power supply.

If a power cord feels more than comfortably warm or if a tool is sparking, have it checked by an electrician or other qualified person.

Disconnect the power supply before making adjustments or changing accessories.

Remove any wrenches and adjust tools before turning on a tool.

Inspect the cord for fraying or damage before each use. Tag defective tools clearly with an "Out of service" tag and replace immediately with a tool in good running order.

During use, keep power cords clear of tools and the path that the tool will take.
3. What Should You Avoid When Using Powered Tools?
Do not wear gloves, loose clothing or jewelry while using revolving power tools. Tie back long hair or wear appropriate hair protection to prevent hair from getting caught in moving parts of equipment.

Do not use a tool unless you have been trained to use it safely and know its limitations and hazards.

Avoid accidental starting by ensuring the tool is turned off before you plug it in. Also do not walk around with a plugged-in tool with your finger touching the switch.

Do not bypass the ON/OFF switch and operate the tools by connecting and disconnecting the power cord.

Do not disconnect the power supply of the tool by pulling or jerking the cord from the outlet.

Do not leave a running tool unattended. Do not leave it until it has been turned off, has stopped running completely, and has been unplugged.

Do not use electric tools in wet conditions or damp locations unless the tool is connected to a ground fault circuit interrupter (GFCI).

Do not expose electric power tools to rain or wet conditions; wet tools increase the likelihood of electric shock.

Avoid body contact with grounded surfaces like refrigerators, pipes and radiators when using electric powered tools; this will reduce the likelihood of shock if the operator's body is grounded.

Do not plug several power cords into one outlet by using single-to-multiple outlet adapters or converters ("cube taps").

Do not use light duty power cords.

Stop using an electric power tool if you feel a tingle in your fingers. This is a warning that the tool is faulty and needs repair.

Do not connect or splice extension cords together to make a longer connection: the resulting extension cord may not be able to provide sufficient current or power safely.

Do not carry electrical tools by the power cord.

Do not tie power cords in knots. Knots can cause short circuits and shocks. Loop the cords or use a twist lock plug.
Conclusion
The growing popularity of power tools comes as no surprise. Whether you talk of construction, plumbing or any other industry, power tools are widely used to perform several tasks. Power tools are mostly sold with suitable power tool accessories that keep these gears in a good condition for a longer period of time.
If you are buying a power tool for yourself but have no experience, kindly contact GZ Industrial Supplies today for professional advice on how to go about it, we have The Best Power Tools in Nigeria.
Related Articles
10 Tips on Simple Ways to Keep Your Power Tools in Good Working Order
Safety Tips for Handling Power Tools
Power Tools from Tend Industrial Supplies
POWER TOOLS SAFETY MEASURES FROM INJURIES
Recent Posts
Where to Buy Dental Products in Nigeria Oral health is a vital aspect of overall well-being, an …

Reliable and efficient industrial supplies are the lifeblood of any thriving industrial sector. …

In the construction industry, the selection of reliable suppliers for structural steel material …