Miller Welding machine big blue 500X diesel driven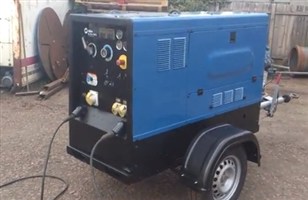 GZ Industrial Supplies is the distributor of miller welding products in Nigeria, We have in stock in our various warehouse locations across Nigeria
Key Features of our Miller welding machine big blue 500X
Multi process DC diesel driven welding generator, powered by a Perkins 404-22 engine. With a maximum output of 500 amps, the auxiliary power of 4Kw , the Big Blue 500X offers exceptional versatility for site welding.

Connect a Miller wire feeder via the 14 pin connector and you have a full function GMAW machine or connect a TIG torch for Lift-arc TIG applications.

Rated Output 500 A, 40% Duty cycle

Voltage range 14 - 40 VDC ,AUX 220/240 and 110 volts when using a step up transformer

Amperage range 55 - 500 A

Weight 701 kg

option for emergency battery isolator and chalwyn exhaust spark arrestor fitted if required

Ideal for Heavy Industrial Applications. Heavy Construction, Structural Steel, Mining Maintenance, Maintenance and Repair Rigs, Process Piping, Sheet Metal
Applications
Heavy Construction Structural Steel
Maintenance and Repair Rigs Mining Maintenance
Process Piping Sheet Metal
Process
Stick, Gouging
(opt. 8mm, max. 10mm Electrodes)
Scratch TIG CC/CV
MIG CC/CV
Flux Cored CC/CV
Rated Output : 500 A, 40% DC 40°C Output Range: 55 - 500 A Generator output rated: Max. 5500 W/17 A, 220 VAC.
Other physical features
The miller welding machine Big Blue 500 X is ideal for pipline contractors, rental or fleet managers who value reliability, ease of service, and long life at an economical price.
4-cylinder industrial liquid-cooled engine designed, built and proven to operate over 10,000 hours before the first basic overhaul.
Automatic engine shutdown pro- tects engine if low oil pressure or high coolant temperature occurs.
Engine gauges are standard Oil pressure and coolant temperature gauges provide visual engine vitals.
Three-phase rotating field genera- tor efficiently produces smooth DC weld output using 20-30% less fuel than a rotating armature-type DC generator.
Please call to confirm what accessories is availble before purchase