A floor scrubber is a device in the form of a walk-behind or a ride-on machine to clean larger areas by injecting water with a cleaning solution and scrubbing and lifting the residue off the floor. Floor scrubbers can be used effectively in industrial, domestic, and commercial spaces to scrub your floors clean of light debris, dust, oil, grease, or floor marks.
Floor scrubbing machine features a cylindrical or rotary (disk) scrubbing head with an automated system that dispenses cleaning solution and vacuums it up. So, in one pass over the floor, a user can dispense a cleaning agent, scrub it into the floor, then vacuum it all up with an auto scrubber squeegee attachment at the back of the machine. Auto scrubbers have a separate dispensing (solution) tank and collection (recovery) tank to separate the clean water from the dirty water. They can be categorized into three main types: walk-behind, stand-on, and rider.
Floor scrubbers are more hygienic than traditional cleaning methods, such as mops and buckets. Environmentally safe soaps can be used in conjunction with a reduced water system to save on the number of chemicals released into the environment and the amount of gray water produced. Some scrubbers are even capable of cleaning without a water and chemical system at all.
Some auto scrubbers cannot reach edges and corners to clean under obstructions such as drinking fountains, and cannot fit into alcoves which will require the user to mop those areas the auto scrubber cannot reach, because of this limitation, new brands of floor scrubbing machines with orbital or oscillating brush decks allow edges, corners, and overhangs to be fully cleaned.
Modern floor scrubbers have a pre-sweep option that removes the need to sweep the floor before scrubbing. The pre-sweep brush head is placed in front of the vacuum system to collect dust and debris before it can block the vacuum system, although in the past it was important to sweep the floor before scrubbing to remove any debris and dust that could clog the vacuum hose or build up in the vacuum motor, which can decrease performance. If this happens, the hose may need to be removed to clear the obstruction, and/or the motor may need to be blown out with compressed air.
Uses of Floor Scrubbing machine
Floor scrubbers allows the washing of various surfaces very quickly and efficiently in maintenance and strip cleaning operations. In maintenance work, a scrubber dryer allows one to remove dirt in a single step by leaving the floor immediately accessible. The most frequent case is cleaning shopping centers, airports, or hospitals daily. With adequate-sized models, interventions can also be performed in small rooms, ensuring a much higher cleaning standard than the manual one, which does not guarantee the complete removal of the dirty solution from the ground. It is the perfect solution to clean kitchens, community canteens, entrances and hotel halls, shops, open spaces, and meeting rooms.
In strip cleaning comprising of degreasers or wax stripping procedures and removals of salt efflorescence, the hourly performance of a scrubber dryer is higher than that of a single-brush scrubber for cleaning and a wet/dry vacuum for the recovery of the dirty solution. If you use the scrubber dryer to rinse, you can optimize the working time, as you can carry out the task with just one operator instead of using one person with a single-brush machine and another with a vacuum cleaner. The scrubber saves time and resources, allowing you to clean faster and more efficiently.
Floor scrubbers can leave your floors much more clean and dry than a mop and bucket, which helps prevent the risk of slips and falls within your facility, as well as an improved appearance. They clean much faster than mops and buckets, and it is easy to find the perfect one for your unique cleaning needs. Whether you need a compact walk-behind scrubber to clean narrow spaces, such as your hallways or entryways, or a large ride-on scrubber to clean larger surface areas, such as a garage or an entire school, there is a machine on the market that is perfect for you.
Floor scrubbing machines to choose from
1. MigCraft Electric Floor Scrubber Machine
Tikweld welding supplier and services is the distributor and supplier of Floor scrubbers in Nigeria. The MigCraft Electric Floor Scrubber Machine is a powerful machine that can easily remove grime, grease, and dirt. The floor pad on the bottom of the machine agitates the cleaning solution on the floor, removing soil and scuff marks quickly and easily.
Applicable Industries:
Hotels, Garment Shops, Building Material Shops, Manufacturing plants, Machinery Repair Shops, Food & Beverage factories, restaurants, Food shops, Printing Shops, Food & Beverage Shops, and Advertising companies.
The MigCraft Electric Floor Scrubber Machine 2350W
Technical Specifications of MigCraft Electric Floor Scrubber Machine
Machine Type: Floor Scrubber
Core Components: Engine, Motor
Use: Descaling / Stripping
Cleaning Process: Solvent Cleaning
Cleaning Type: Clean-In-Place (CIP)
Material: Plastic
Power: 2350W
Dimension(L*W*H): 1600*930*1320mm
Warranty: 1 Year
Brush Motor: 2*550W
Package Size: 1640*970*1390mm
Drive Motor: 600W
Walking Speed: 0-6.8KM
Squeegee Width: 1160mm
Vacuum Motor: 600W
Machine Only: 380kg/420kg
Water Flow: 5.0L/Min
2. MigCraft Floor Scrubber Machine
GZ Industrial Supplies is the distributor of MigCraft Industrial and Torquing Tools in Nigeria. This MigCraft Floor Scrubber Machine is a powerful cleaning machine that can clean floors quickly and effectively, replacing traditional mops and buckets.
Technical Specifications of MigCraft Floor Scrubber Machine
Cleaning Process: Cold Water Cleaning
Dimension(L*W*H): 1180*590*1030
Warranty: 1 Year
Brush diameter(mm): 500
Brush Motor(V/W): 24/500
Width of Suction head (mm): 800
Brush rpm: 166
Brush Pressure(kg): 30
Tank: 55
Forward Speed(km/h): 4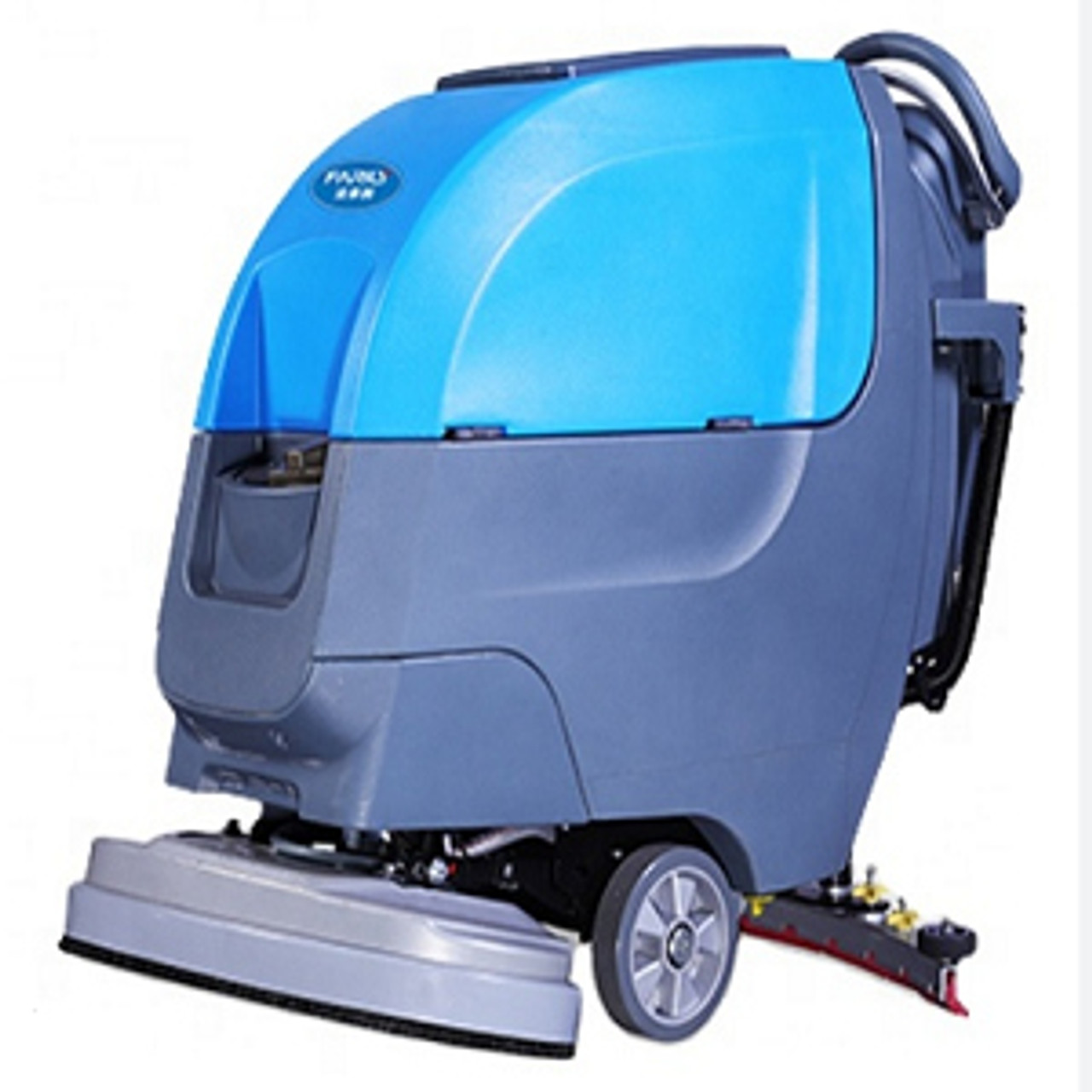 Order online Migcraft Floor Scrubber 500W
Maintenance Tips for a floor scrubber
Stripping solution should never be used on the floor scrubbing machine as it can cause damage to the solution dispensing system, but the machine can still vacuum it up without harm. Occasionally, the solution system should be flushed with water and vinegar to remove any soap and calcium deposits that could build in the solution system.
After each use, the dispensing (solution) and especially the collection (recovery) tanks should be emptied and rinsed out to prevent dirt buildup. The pads/brushes, vacuum hose, and squeegee should also be rinsed to prevent dirt buildup. The motor should be run for several minutes afterward to remove any moisture that could be present in the motor to reduce the chances of corrosion that could damage the vac motor. Failure to do this maintenance can result in a loss of vacuum airflow and an increase in costly repairs.
Conclusion
The use of a floor scrubber will maintain your facility's hard floors, boost productivity and efficiency, reduce cleaning times, and lower labor costs. The need for floor scrubbing machines is paramount in achieving a more hygienic environment. It is an equipment that can be used both for personal and commercial use. It is user-friendly and can also be easily maintained without so much difficulty. You can contact us for all supplies of scrubbing machines and equipment.
Recent events
Offshore containers are crucial in various industries, especially offshore and marine ones. In this …

In today's modern world, electricity is an integral part of our daily lives. From powering our homes …

Are you looking to take up a new DIY project but need help finding the right-hand tools? Trying to f …