THE DIFFERENCE BETWEEN METAL INERT GAS AND METAL ACTIVE GAS WELDING
Welding is one of the joining processes that can efficiently and economically assemble two or more metallic or non-metallic parts permanently. With the extensive development throughout the years, a large number of such processes has evolved in order to cater the need to join a large variety of materials in innumerable ways. Gas metal arc welding (GMAW) is one such process where metallic materials are joined permanently by melting faying surfaces of the components by means of electric arc established between electrode and work piece.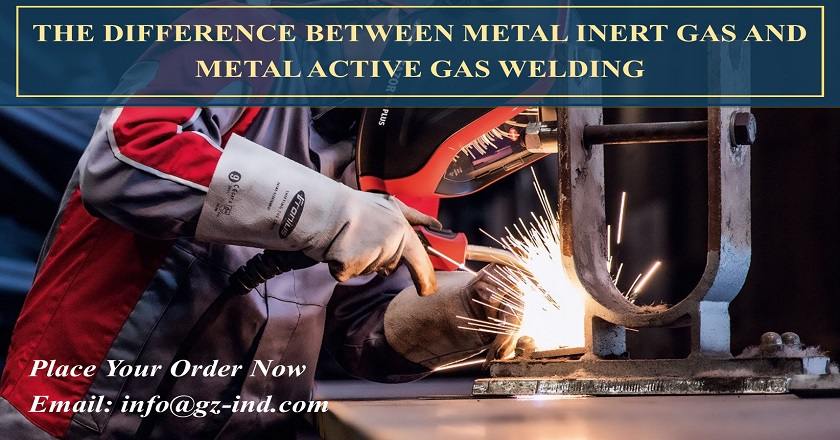 METAL INERT GAS (MIG): This welding process utilizes suitable inert gas for shielding purpose during welding. Such gas is mainly argon or helium, or a mixture of these two in different proportions. Since these gases are chemically inert thus they remain stable even at extreme arc heat. Therefore they do not contribute in altering any weld characteristics apart from protecting the weld bead and electric arc from any external influence.
METAL ACTIVE GAS (MAG): This welding utilizes an active gas mixture as shielding gas. For example, a suitable mixture of carbon di-oxide (CO2) and oxygen (O2) along with other comparatively stable gases like argon, helium, nitrogen, etc. Besides fulfilling basic requirement of shielding gas, such active gases can break down due to arc heating and subsequently induce various chemical elements on weld bead that can enhance joint properties. It also contributes in stabilizing arc, reducing spatter level, etc.
DIFFERENCES BETWEEN MIG WELDING AND MAG WELDING
MIG Welding
MAG Welding
MIG welding is a chemically inert gas such as nitrogen, argon, helium, or a mixture of such gases is used as shielding gas in Metal Inert
Gas (MIG) welding.
A mixture of chemically active gas (like oxygen or carbon di-oxide) and inert gas (like nitrogen, argon or helium) is used as shielding gas in Metal Active Gas (MAG) welding.
Because of pure inert gas, the shielding gas remains intact during welding (i.e.
no disintegration takes place).
Due to presence of active gas, a part of shielding gas chemically disintegrates during welding due to intense heat of electric arc.
Inert gas cylinder is costlier and thus MIG welding is also costlier.
Shielding gas is comparatively cheaper and thus MAG welding is economical.
This process is suitable for welding non-ferrous materials like aluminum.
It is suitable for welding of ferrous metals, especially stainless steel.
It cannot alter the chemical composition of weld bead or its properties.
It is capable in changing chemical composition and thus properties of weld bead. This is sometimes undesirable, but sometimes it can be carried out intentionally to obtain intended properties of weld bead.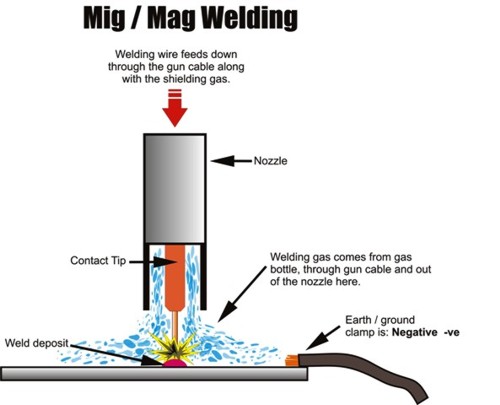 ADVANTAGES OF MIG/MAG WELDING:

High deposition rate
No slag formation
Simple ignition of the arc
Well-suited to mechanized and automated welding
High welding speeds can be achieved while still maintaining a high weld seam quality
Well-suited to out-of-position welding and welding in difficult positions
Low filler metal costs
DISADVANTAGES OF MIG/MAG WELDING:
Welding outdoors or in drafty halls is only possible in certain circumstances
Sensitive to rust and humidity
Susceptible to porosity and lack of fusion
High risk of spattering
Partially lower weld seam quality than with TIG welding
CHARACTERISTICS OF SHIELDING GAS:
As the name suggests, metal inert gas (MIG) welding utilizes only inert gas like argon or helium. Such gases remain stable even at extreme arc temperature. Metal active gas (MAG) welding utilizes a mixture of inert gas and active gases as shielding gas. Such active gas mainly includes oxygen and carbon di-oxide. The mixing proportion between inert and active gases can significantly vary based on many parameters like base metal and its thickness, filler metal, root gap, welding polarity, intended properties of weld bead, etc. Sometimes environmental condition also governs this proportion.
Capability of altering properties of weld bead: Inert shielding gases remain stable during welding and thus do not induce any chemical elements on weld bead. However, active gases can break down under extreme arc temperature and can subsequently induce relevant chemical elements on weld bead. This leads to change in chemical and mechanical properties of joint. For example, while joining low carbon steel (like mild steel) using carbon di-oxide rich shielding gas, carbon inclusion may occur and this can enhance surface hardness of joint. Therefore, MIG welding cannot alter weld bead properties; while, MAG can do the same.
Cost of shielding gas and application area: In GMAW, shielding gas flow rate in the order of 10 – 20L/min is utilized. Cylinders, filled with industrially pure shielding gas, is comparatively costlier and thus MIG welding is one costlier process. It is primarily used for welding non-ferrous materials like aluminum. Oxygen based active gas is not favored when parent materials are non-ferrous because of high chances of oxidation. In this sense, MAG is economical and preferred for welding of ferrous metals, especially stainless steel.
Are you looking for a powerful and compact welding system that provides flexible and reliable control over all MIG/MAG welding processes? Then look no further, we at GZ Industrial Supplies Limited will support you.
Recent events
Can inverters charge automotive batteries?Inverters have become a dominant source for enjoying more …

Epoxy coatings are made up of part epoxy resins and part hardeners. These are miscible substances us …

How Medical Equipment WorkThe healthcare sector is increasingly bombarded with new medical equipment …