Industrial gases are in high demand across industries due to their critical role in aviation, oil and gas, agriculture, and others. The increase in demand is driven by the need for better safety, more efficient production, and environmental protection, and that's why top suppliers of industrial gases in Nigeria, such as GZ Industrial supplies have made accessible branches in different states in Nigeria such as Lagos, Port Harcourt, Calabar, Abuja, Ogun state where industrial gases are made available at all times. Industrial gases are gaseous materials that comprise elements, molecular compounds, or mixtures that are produced to be used in various industries; at certain standard temperatures and pressure, they remain in their gaseous forms; these include Nitrogen, oxygen, carbon dioxide, Argon, Hydrogen, Helium, and Acetylene. They are either elemental gases, chemical compounds made of either organic or inorganic matter, or mixtures of individual gases and generally have low molecular weights.
Industrial gases have unique benefits in a wide range of industries, which include oil and gas, petrochemicals, chemicals, power, welding, mining, steelmaking, metals, environmental protection, medicine, pharmaceuticals, biotechnology, food, water, fertilizers, nuclear power, electronics, and aerospace. Industrial gases are stored in cylinders which must be protected from industrial heat and ignition sources and isolated from combustibles. It is ideal for storing cylinders outdoors from Operating plants, furnaces, radiators, boilers, and other machinery that produce industrial heat, vegetation, and other combustible materials, and Smoking areas, work, and production areas that generate sparks.
Buy Industrial gases in Nigeria from GZ industrial Supplies Limited.
GZ Industrial Supplies Nigeria is the preferred industrial gas supplier in Nigeria. Our gas expertise is unmatched in the industry, and our continued investment in meeting the needs of all industrial gas users, from professional tradesmen to the most significant industrial manufacturing and processing plants, is reflected in our wide range of gas products, supply options, and solutions.
We, along with our associated companies, are Industrial Gases as well as Gas Cylinder Manufacturers. We aim to achieve higher industry standards by providing the best quality products and services at a reasonable cost. We have over 15 years of experience in the gas and cylinder field and can fulfill our customers' requirements. Our vast knowledge and expertise are always available to provide the industry with the required solutions for any Air Product anywhere in Nigeria.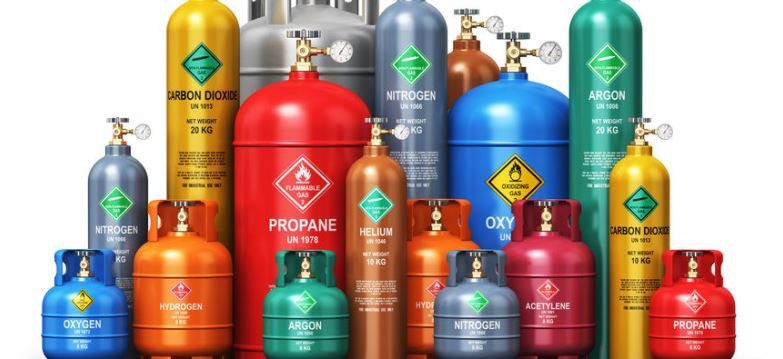 1. GZ Industrial Supplies Port Harcourt
238 Aba Road, by Fidelity Bank Rumuogba
Port Harcourt Rivers state.
Tell. +2349121740191,+2348060907072
2. GZ Industrial Supplies Nigeria Calabar
30/32 Ndidem Usang Iso Road. Mariam Calabar 540242
Contacts Tell. +2349121740191,+2348060907072
3.GZ Industrial Supplies Ogba
77/79 Yaya Abatan By College Road Ogba Lagos State
Contacts Tell. +2349121740191,+2348060907072
4. GZ Industrial Supplies Sango Ota
Km 42 Lagos-Abeokuta Expressway,
Opposite Coronation Power and Gas Limited, Ado-Odo/Ota, Ogun State
Contacts Tell. +2349121740191,+2348060907072
5.GZ Industrial Supplies Ikeja Lagos
18 Adesina Street, Off Obafemi Awolowo Way
Ikeja Lagos.
Tell. +2349121740191,+2348060907072
6. GZ Industrial Supplies Lekki
Suit 10 Sebuf plaza Lekki Epe Expressway Lekki Lagos, 105102, Lagos
Tell.+2349121740191,+2348060907072
7. GZ Industrial Supplies Apapa.
Plot 10 Apapa Oshodi Expressway, Shamrock House Coconut bus Stop Ibafon, Apapa 102241, Lagos
Tell. +2349121740191,+2348060907072
8. GZ Industrial Supplies Nigeria Ogba
77/79 Yaya Abatan By College Road Ogba Lagos State
Contacts Tell. +2349121740191,+2348060907072
9. GZ Industrial Supplies Abuja Showroom
Shop 016, Zitel Plaza, Plot 227 P.O.W. Mafemi Cres. Utako, Abuja.
Contacts Tell. +2349121740191,+2348060907072
Safety Guidelines for Compressed Gas
A. Identification "ALWAYS READ THE LABEL"
All compressed gas cylinders must have their contents clearly labeled. The cylinder itself should be stenciled or stamped with the gas identification, or there should be a label. You can also use commercially available three-part tag systems for identification and inventory purposes.

Any gas cylinder that does not have a legible label identifying its contents should not be used. If the label on a cylinder is unreadable, the cylinder should be marked "contents unknown" and returned to the supplier.

Relying on the color of the cylinder for identification purposes is not recommended. This is because cylinder colors may differ depending on which supplier you get them from. In addition, it's also not wise to rely on labels on caps as these are often interchangeable.

It's important to label all gas lines leading from a compressed gas supply to identify the gas and the area served. The labels should be coded to distinguish between hazardous gases, such as flammable, toxic, or corrosive substances. In areas where flammable compressed gases are stored or used, you should post signs identifying the substance and list appropriate precautions.
B. Handling and Use
1. Before cylinders are first used, the following precautions should be taken:
It's important to make sure that the cylinder you're using is equipped with the correct regulator. This will help ensure that your cylinder can function properly and safely.

Always inspect your regulator and cylinder valves for grease, oil, dirt, or solvent before you use them. It's very important that you never use grease or oil to lubricate regulators or cylinder valves because it could cause an explosion. The cylinder should be placed so that the valve handle at the top is easily accessible.

Irritant and toxic gases should only be used in fume hoods to protect the user. The valve should only be opened when the cylinder is inside the fume hood and should be closed immediately after use.

When opening or closing a valve on a gas cylinder, only use wrenches or tools that the cylinder supplier provides. Pliers should never be used for this purpose, as they can damage the valve. Some regulators require washers; check this before fitting the regulator.

Please refer to the Safety Data Sheet [SDS] for the gas being used for more information on how to safely use and handle it and its toxicity.

Fire extinguishing equipment is essential in any workspace where welding or cutting operations using compressed cylinder gases are present, as they pose a serious fire hazard. By having fire extinguishers readily available, you can help prevent a small fire from spreading and becoming a much bigger problem.
2. Cylinder Storage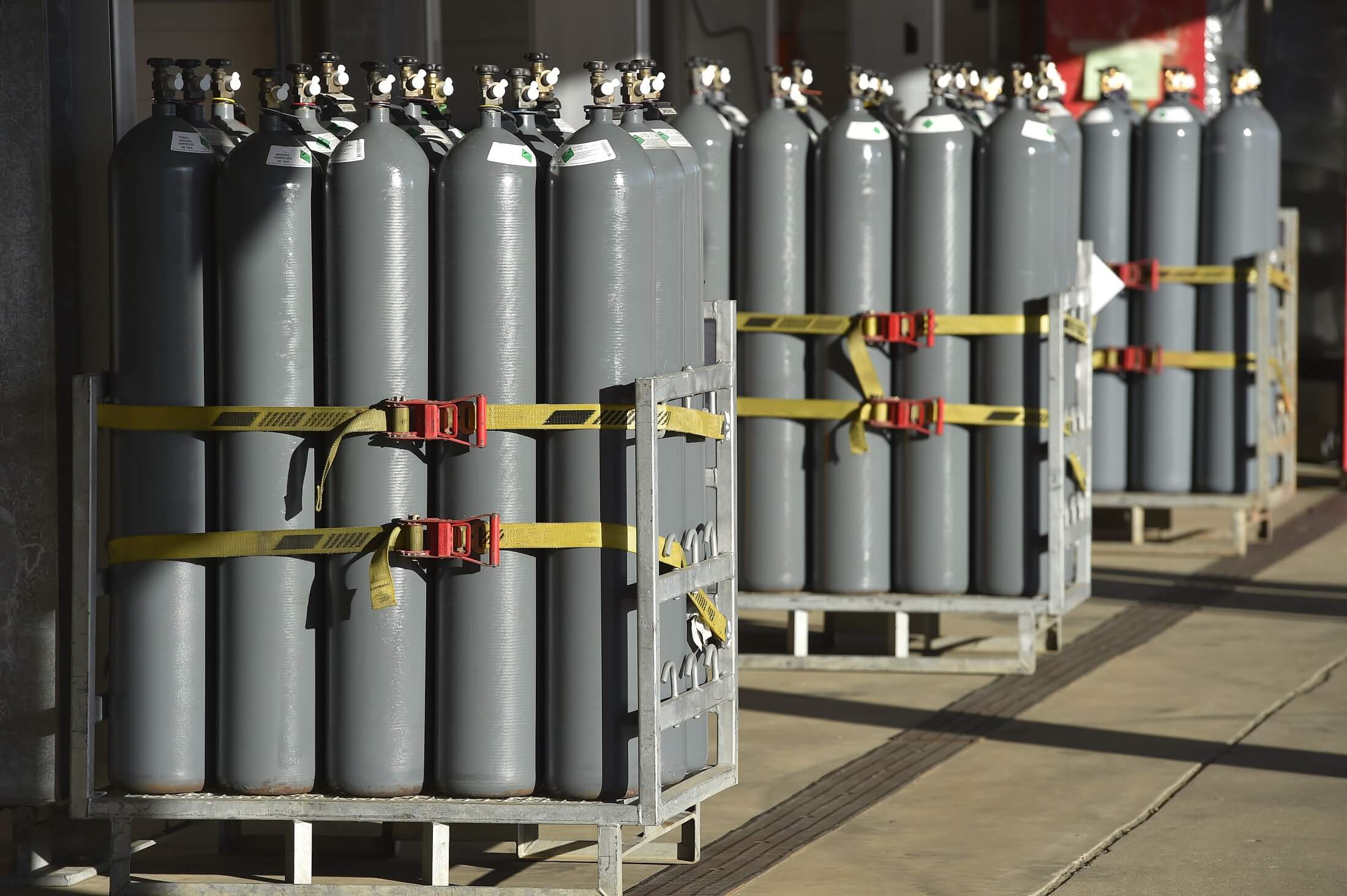 It's important to always secure your gas cylinders to prevent them from tipping over.

Use appropriate materials like a chain, plastic-coated wire cable, or commercial straps to secure cylinders.

Gas cylinders can not be stored in public hallways or other unprotected areas.

Cylinders must be stored and segregated according to hazard class. Oxidizers (oxygen) must be separated from flammable gases, and empty cylinders must be isolated from filled cylinders. This is important to prevent dangerous accidents.

To ensure the safety of oxygen cylinders, they must be stored at least 20 feet away from flammable gas cylinders or in a separate area protected by a firewall at least five feet high with a fire rating of 30 minutes.

Keep this product stored in a cool and dry place, out of direct sunlight and away from sources of heat or ignition, do not allow the temperature to exceed 125 degrees Fahrenheit.

Acetylene cylinders must always be stored upright, never on their sides.

It's important to place valve protectors on gas cylinders when not in use to prevent gas leak or damage.


Cylinders need to be stored in a safe place where they won't get damaged. Avoid storing them near elevators or gangways where heavy objects could hit them.

Cylinders need to be stored to prevent them from rusting like on a shelf or table. Cylinders should also be where unauthorized individuals cannot tamper with them.

It's important to keep your storage areas well-ventilated, cool, dry, and free from corrosive materials. This will help extend the life of your stored items and protect them from damage.
3. Moving Cylinders
For your safety and the safety of others, always use a cylinder cart or basket to move cylinders around - never drag, slide or roll them.

It is important to always have the protective cap covering the valve when transporting a cylinder. This will help to prevent any accidents or leaks from occurring.

Do not transport gas cylinders with the regulator in place.

Always ensure the cylinder is firmly secured to the cart before moving it. This will help prevent any accidents from happening.

Handle cylinders carefully to avoid dropping them or striking them against other surfaces, which could cause an accident.

Cylinders should never be lifted using the valve cover as this could damage them and cause them to become unattached. If a cylinder is dropped, it could explode if it falls on a hard surface.
4. Use and Operation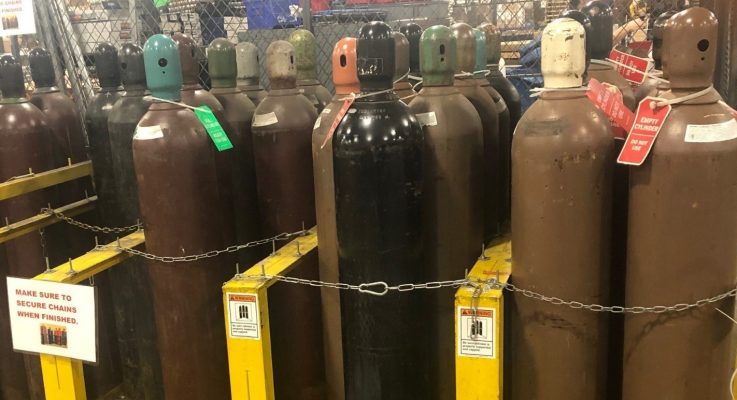 Only those who have received the proper training should handle compressed gas cylinders. This ensures the safety of both the individual and those around them.

It is advisable to back off the pressure-adjusting screw of the regulator to release spring force before the cylinder valve is opened.

When opening the cylinder valve, always do so slowly and with the proper regulator. Make sure you stand with the cylinder between yourself and the regulator (cylinder valve outlet facing away) to avoid any potential accidents.

When opening acetylene or other flammable gas cylinder valves, do not turn the spindle more than 1⁄2 or, preferably, 3⁄4 of a turn. This will help prevent explosion and allow the cylinder valve to be closed quickly, which will cut off the gas flow.

You should never heat a cylinder to raise the gas pressure inside it. This is not only dangerous, but it can also cause the safety mechanisms that have been put in place by the supplier to fail.

When working with cylinders, keep them away from all sources of electricity, flames, and sparks. This will help prevent accidents and injuries.

It's important to never leave a valve open when equipment is not in use, even when it is empty. If you do, air and moisture may diffuse through the open valve and cause contamination and corrosion within the equipment.

Do not refill a cylinder; mixing residual gases in a confined area may cause a dangerous reaction. If you must refill, do so in a well-ventilated area and take all necessary safety precautions.
Conclusion
Industrial gases are significant in meeting several industrial, commercial, and domestic purposes. Besides the current needs and applications, new uses for these gases are also emerging with the ever-growing industries and technologies. Contact us for further details on procurement, supplies, and services of all kinds of industrial gases in Nigeria.
Recent events
Arc welding machines have been a game-changer in the industrial world, revolutionizing the way metal …

Lagos is Nigeria's relentlessly most competitive city and one of the most prolific cities where many …

Epoxy Oilserv, a leading supplier of technical materials and services to the energy and constructio …